Weightlifting with Coach Welp in the morning is cancelled during spring break. It will resume when we return to school on the Monday following spring break!

Attention all Wray Eagle Fans: Wray Eagle State Championship Basketball Parade will be held at 1:15pm today on Main Street!

HSBBB Schedule Update: The Wray Boys will play for the state 2A championship this evening at 7:00PM, NOT at 8:30 as previously noted. See you all at the game!



Boys State Basketball Playoff #3: Playoff Schedule-SCHEDULE: Thur.-Fri., March 9-10 Sat. March 11 8:45 a.m. Girls 10:00 a.m. 2A Girls Third Place 10:15 a.m. Boys 11:30 a.m. 2A Boys Third Place 11:45 a.m. Girls Clear House 1:15 p.m. Boys 4:00 p.m. 1A Girls Championship Clear House 5:30 p.m. 1A Boys Championship 4:00 p.m. Girls 7:00 p.m. 2A Girls Championship 5:30 p.m. Boys 8:30 p.m. 2A Boys Championship 7:00 p.m. Girls 8:30 p.m. Boys

There is also a Clear Bag policy at the Event Center: Allowed- Clear Plastic Bags- 12x12x6 Clutch purses- 4.5x6.5 Wallets- 3x4 Clear Plastic Storage Bags- 1 Gallon NOT Allowed- Backpacks, purses, totes, camera bags, cinched bags

State Basketball Playoff Information: Wray vs Plateau Valley on Thursday March 9,2023 at 8:30 pm at the Budweiser Events Center Loveland, CO PARKING: Free TICKET PRICES – SOLD ONSITE AT BUDWESIER ONLY: Great 8, Final 4, Consolations, & Championships General Admission $12.00 + $1 facility fee = $13.00 Students K-12 & Seniors (60+) $9.00 + $1 facility fee = $10.00 All Session Pass – Adult $60.00 + $1 facility fee = $61.00 All Session Pass – Students K-12 & Seniors (60+) $45.00 + $1 facility fee = $46.00

Reminder for Regional Basketball; Only CHSAA and CHSCA passes accepted for Regional games!



HSBBB Regional Tournament Update: 3/3/23 #4 Wray vs #29 Vail Mountain School- 6:00pm #13 Wiggins vs #20 Byers- 7:30 pm 3/4/23 Winner plays winner- 1:00pm

HSGBB Regional Tournament Update: All game s will be played at Julesburg HS despite hat you may read elsewhere. 3/3/23- 5:30pm- #2 Sedgeco vs #31 Crowley County 7:00pm- #15 Wray vs #18. Monte Vista 3-4-23- Winners of 3/3/23 play at 1:00pm

Boys and Girls State 2A Brackets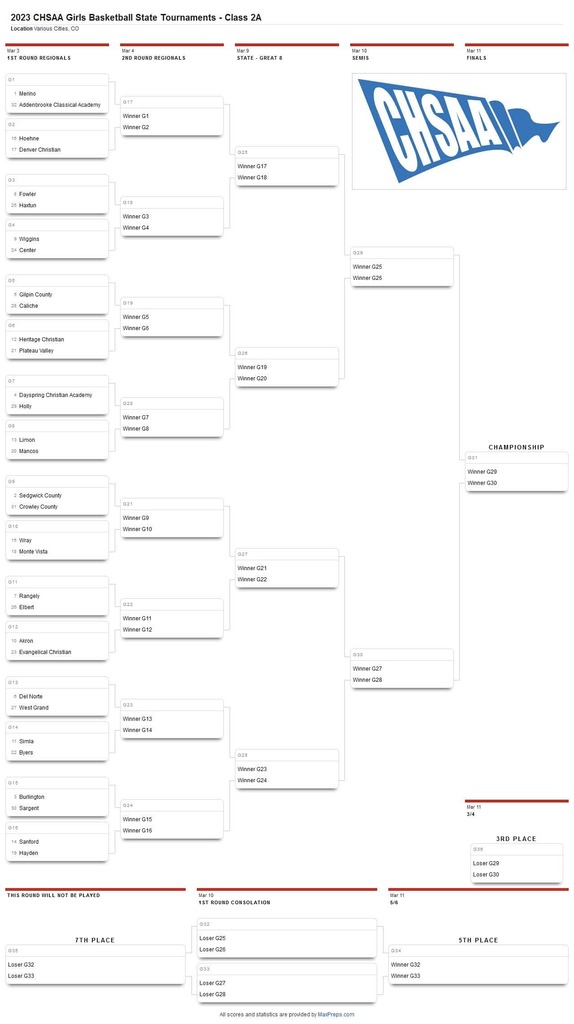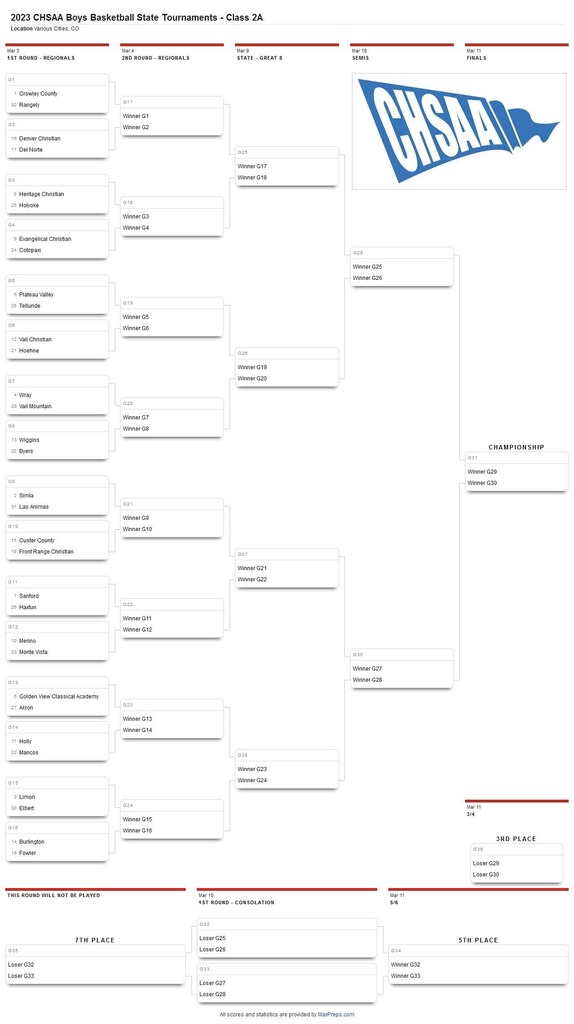 HSBBB District Game Update: The boys basketball team will play Merino on Saturday 25, 2023 at NJC (Sterling) at 6:30 pm for the district basketball title!

High School Track Schedule Changes: Added Meets: Saturday April 1, 2023- University Invitational- Greeley Friday April 14, 2023- Greeley Twilight Invitational- Greeley Dropped Meets; Saturday April 15,2023- Byers Invitational- Byers Saturday April 29, 2023- Tom Meyers Invitational- Akron


JHWR Information: Per Coach Richards, all wrestling equipment should be washed and returned to the wrestling program tomorrow (2/23/23).

Wrestling Team Reminder: Just a reminder that the wrestling team will be the Friday greeters (2/24/23) at the D.O entrance of the school starting at 7:30 am. Take the time to inspire the elementary kids and the next generation of wrestling champions!

HSBB Update: The boys basketball team will journey to NJC (Sterling) on Thursday February, 23, 2023 to play Holyoke at 4:30 pm.