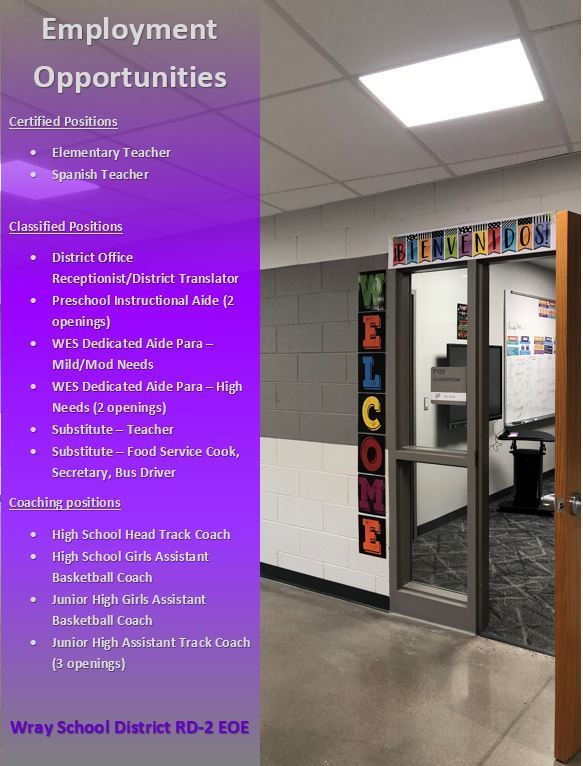 Wray Homecoming here we come! Go Eagles! Grades 7-12 please see the attached image Grades K-6 Homecoming Spirit Days are as follows: Monday (09/26) - Super Hero Day Tuesday (09/27) - Dress like a Tourist Day Wednesday (09/28) - Workout Wednesday Thursday (09/29) - Pajama Day Friday (09/30) - Purple Pride Day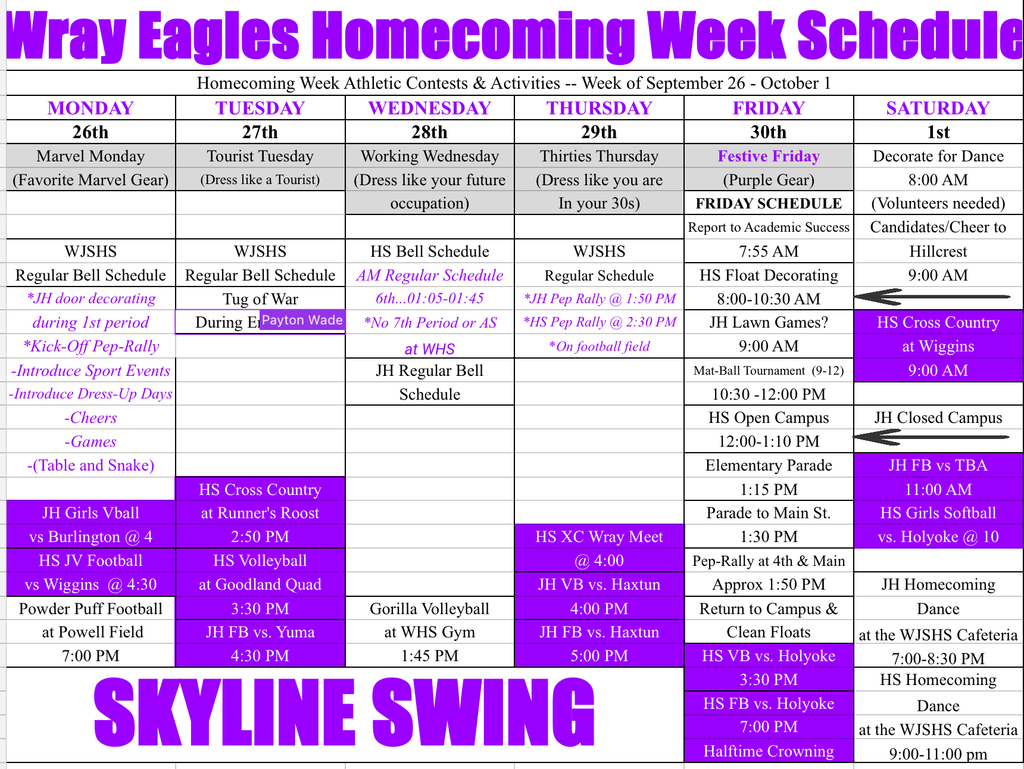 Wray School District is at the UNK Educational Career Fair today !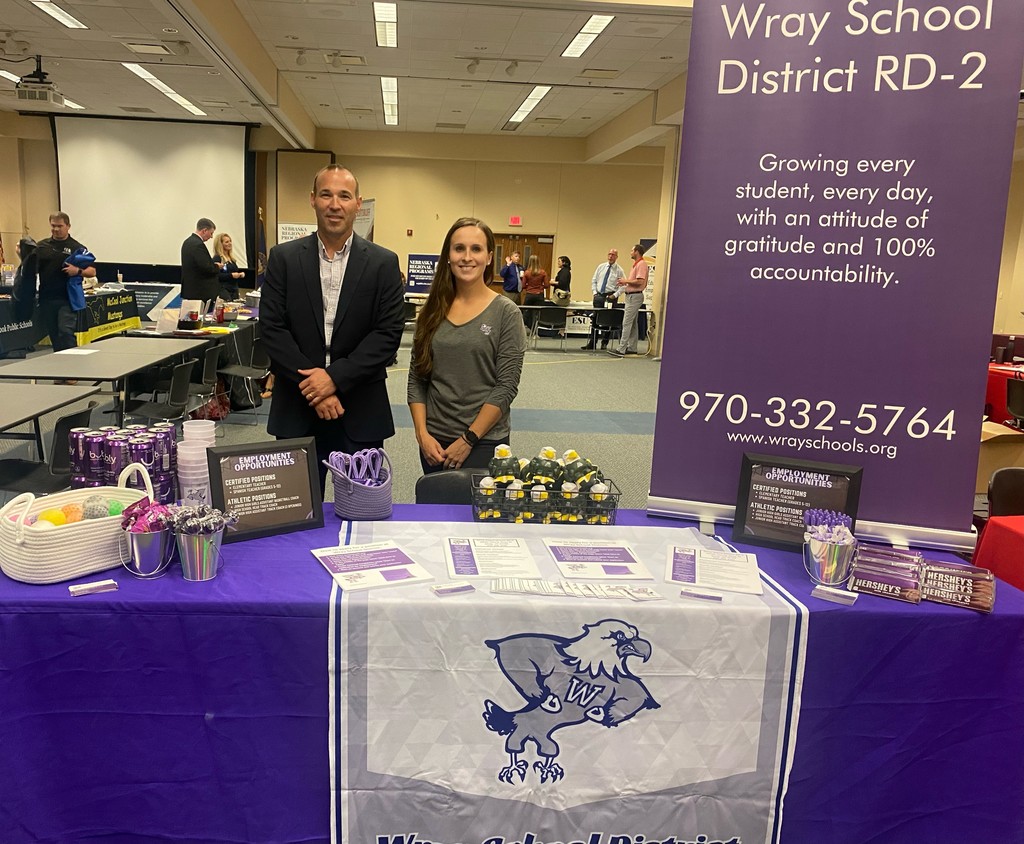 See the information below on Bus Driver Training!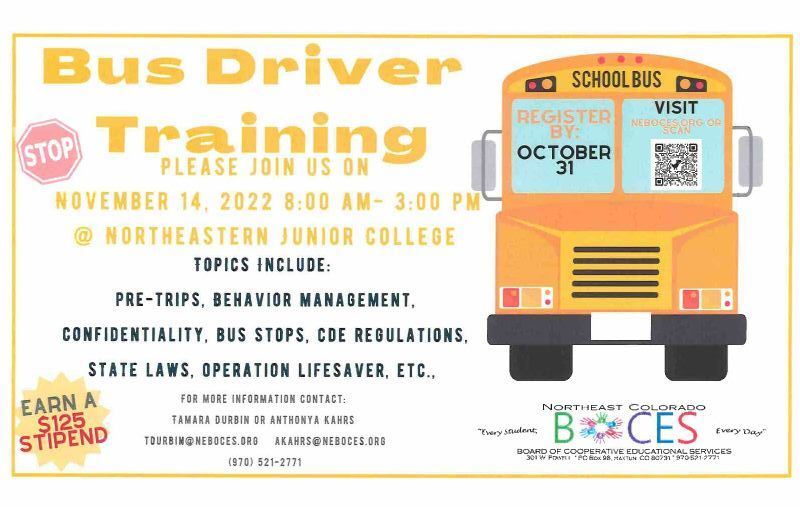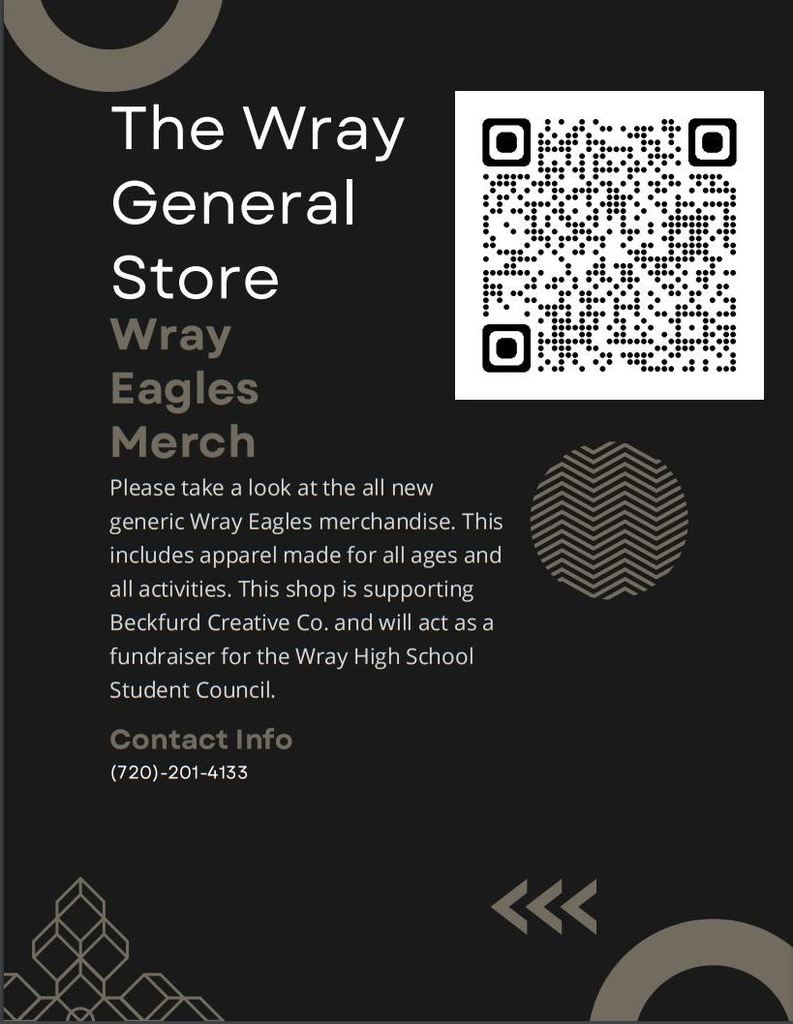 WELCOME BACK EAGLES!! 🦅💜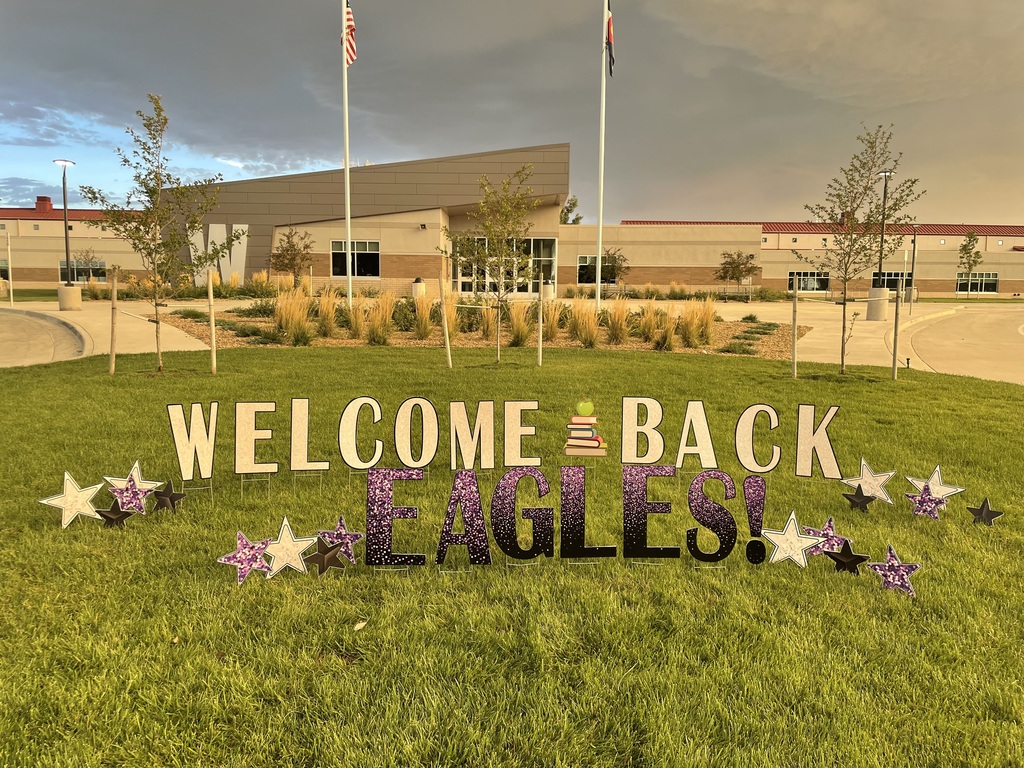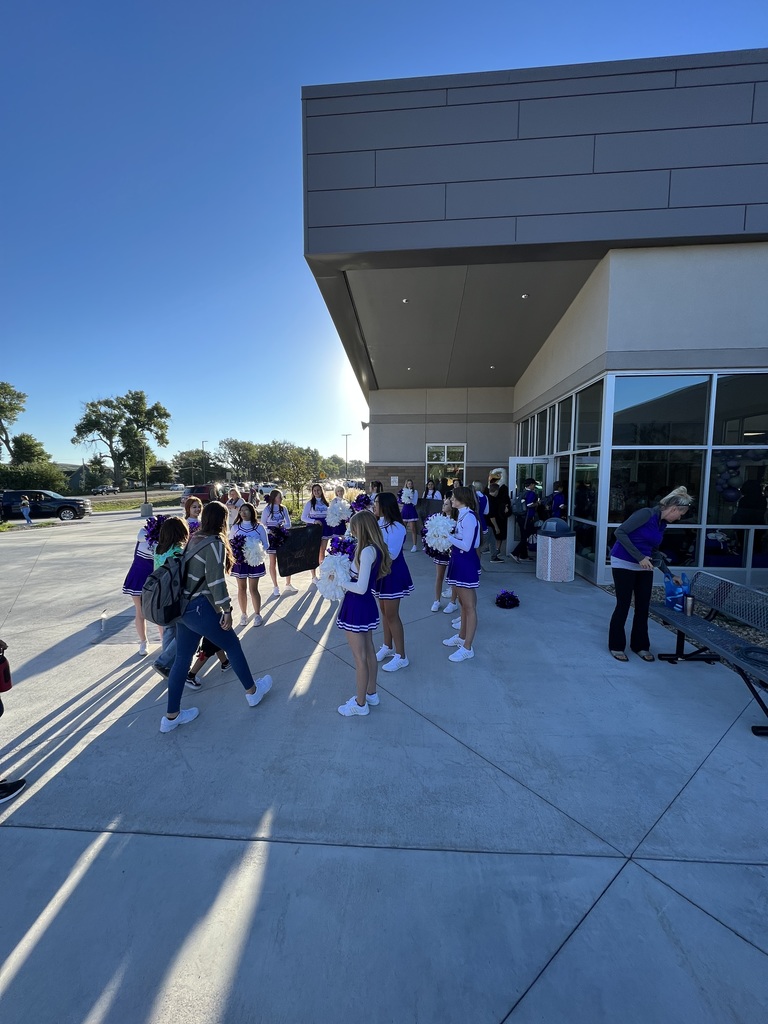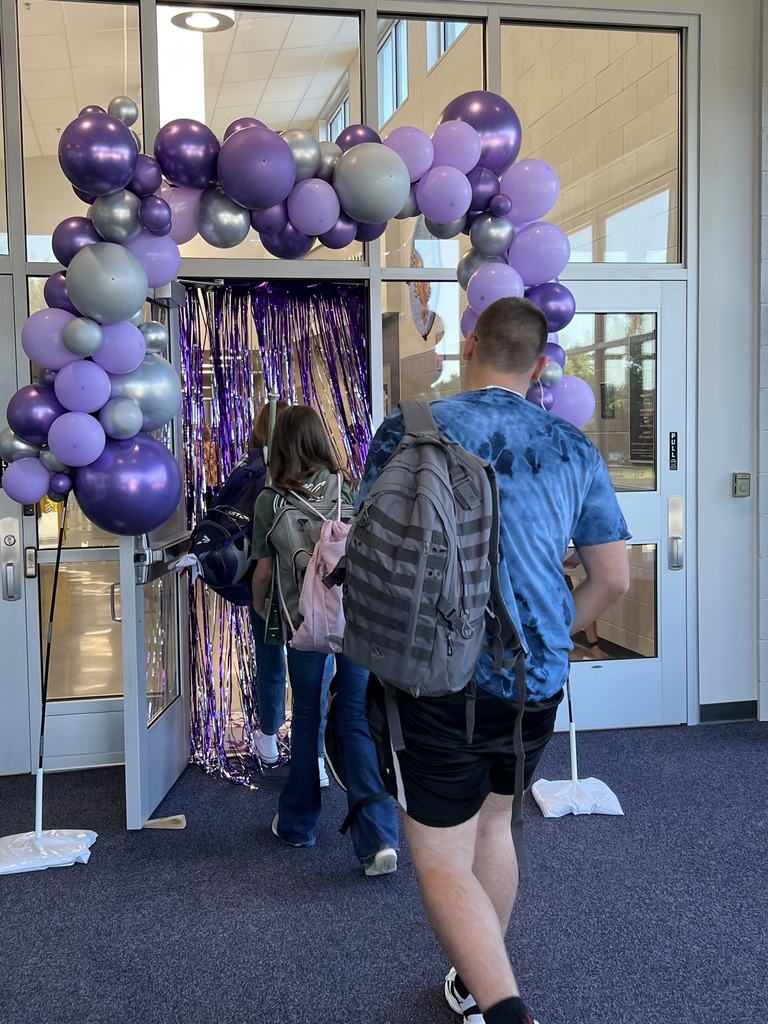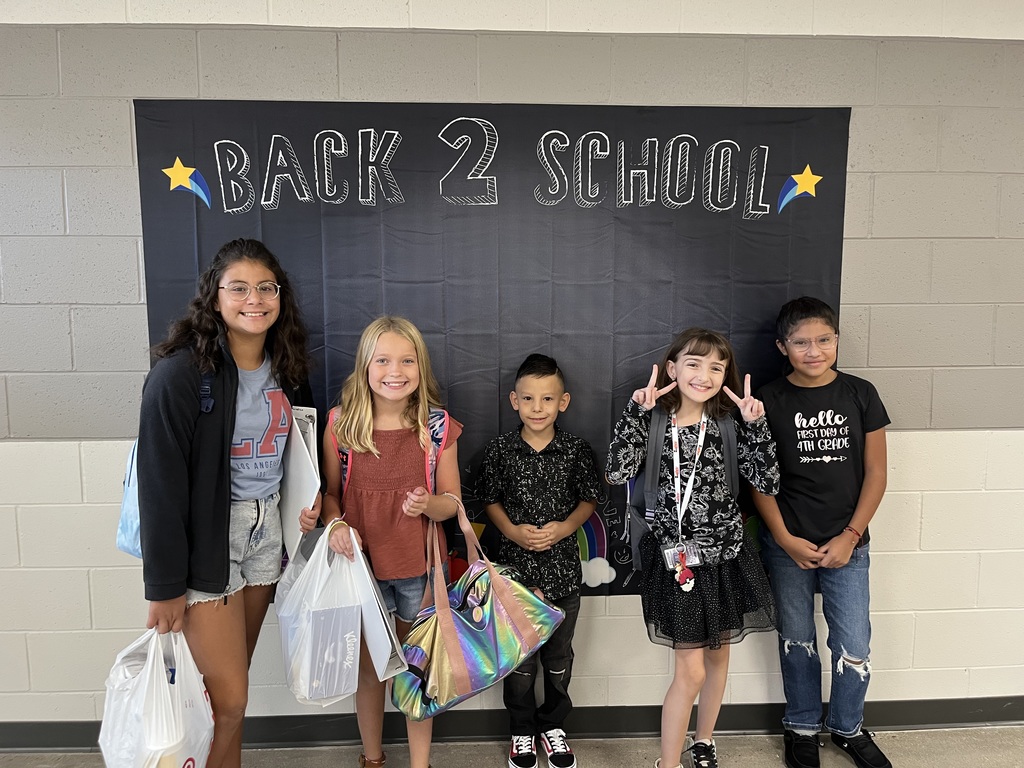 Please see the flyer below for Important Dates for WES! ___________ ¡Por favor, vea el folleto de abajo para las fechas importantes para WES!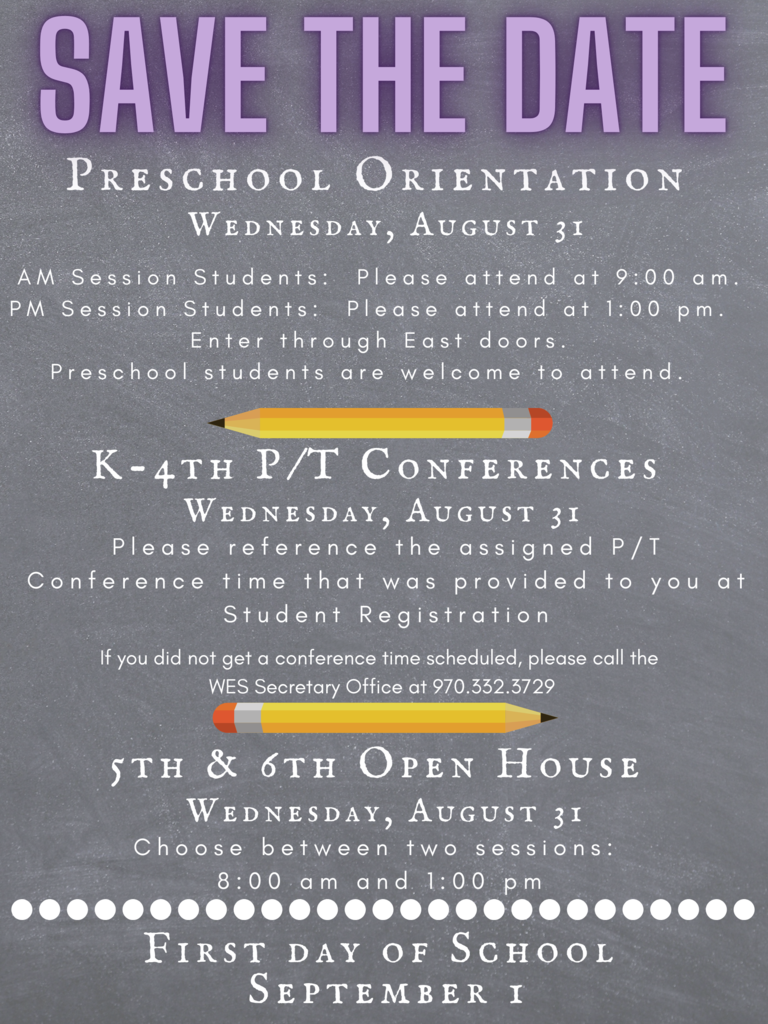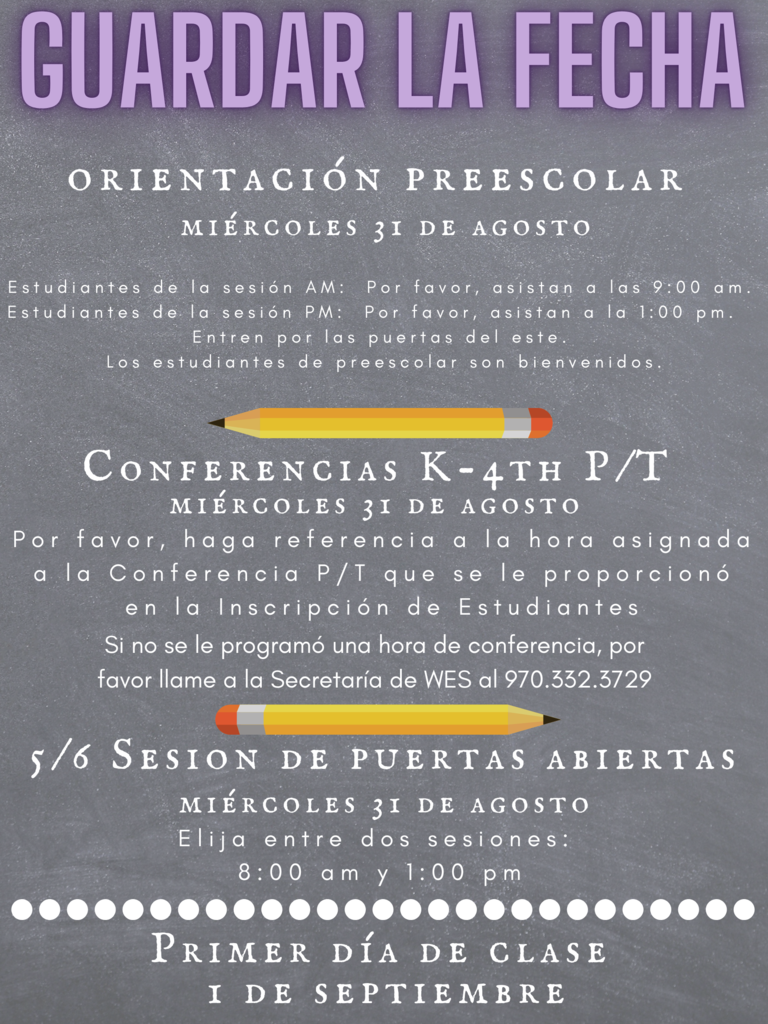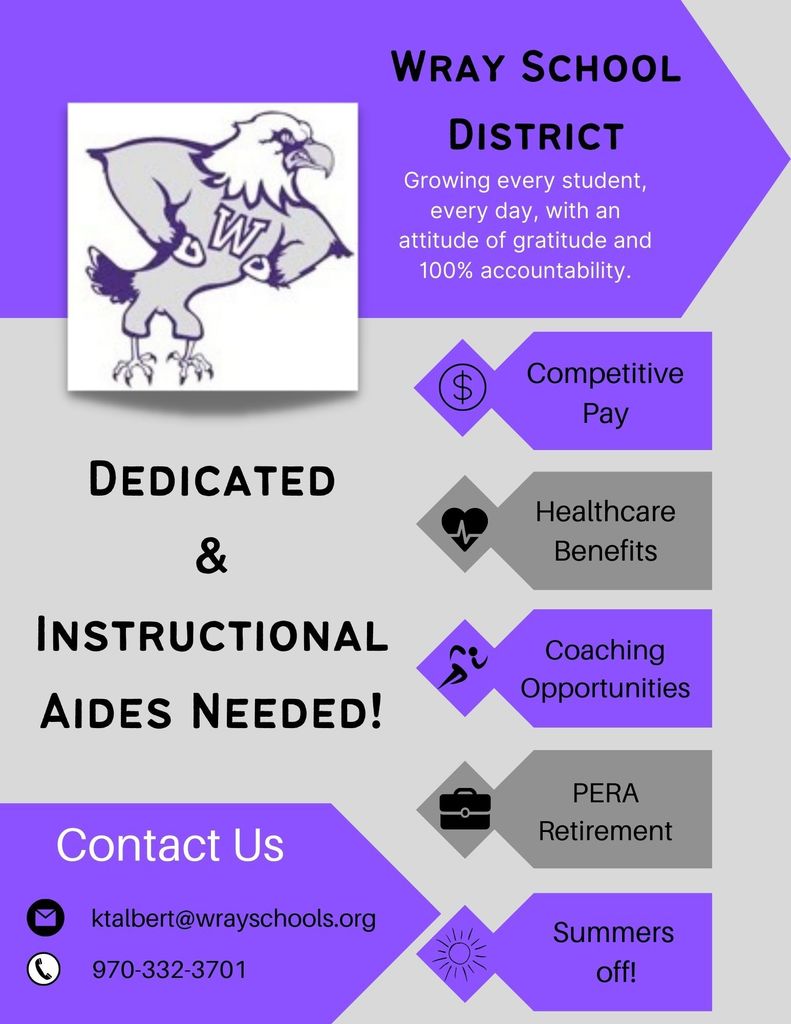 REMINDER: Today's the the last day for 7-12th graders to pick up iPads! Please pick up your iPad before 4pm today! ______________________________________ RECORDATORIO: Hoy es el último día para que los alumnos de 7 a 12 grados recojan sus iPads. Por favor, recojan su iPad antes de las 4 de la tarde.

Please see the information below for BAND CAMP for 5th grade and up! Please contact Kyle Tong with any questions! ____________________________________ Por favor, vea la información abajo para el CAMPAMENTO DE BANDA para el 5º grado y más. ¡Por favor, póngase en contacto con Kyle Tong con cualquier pregunta!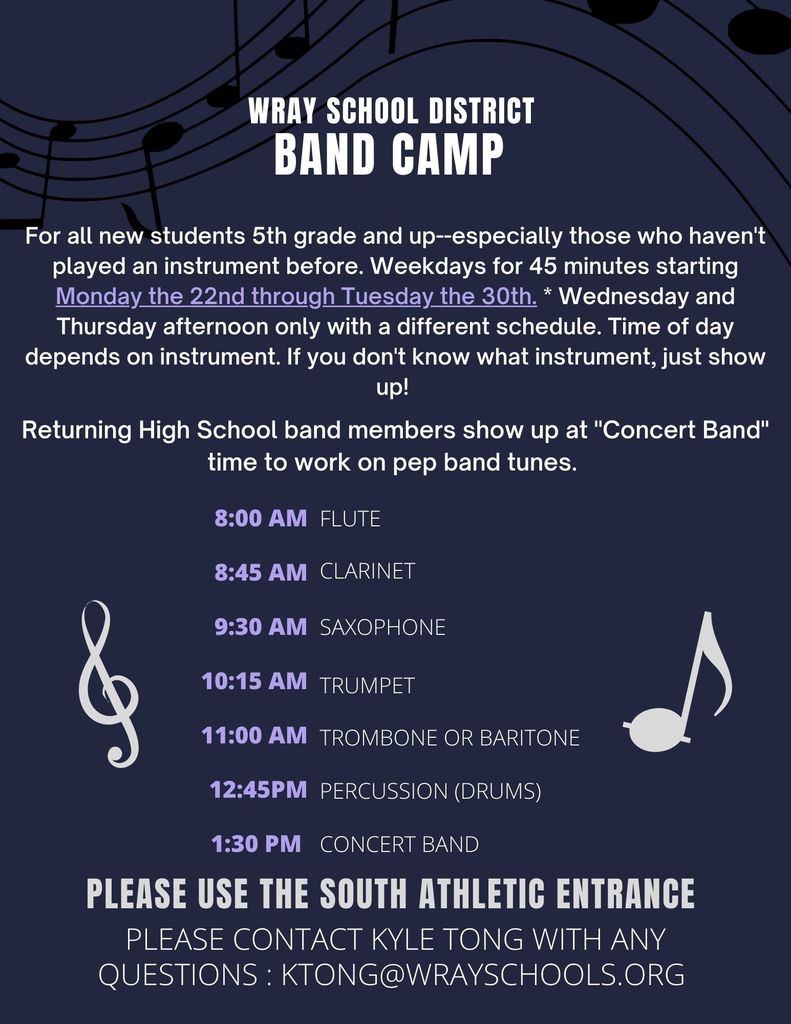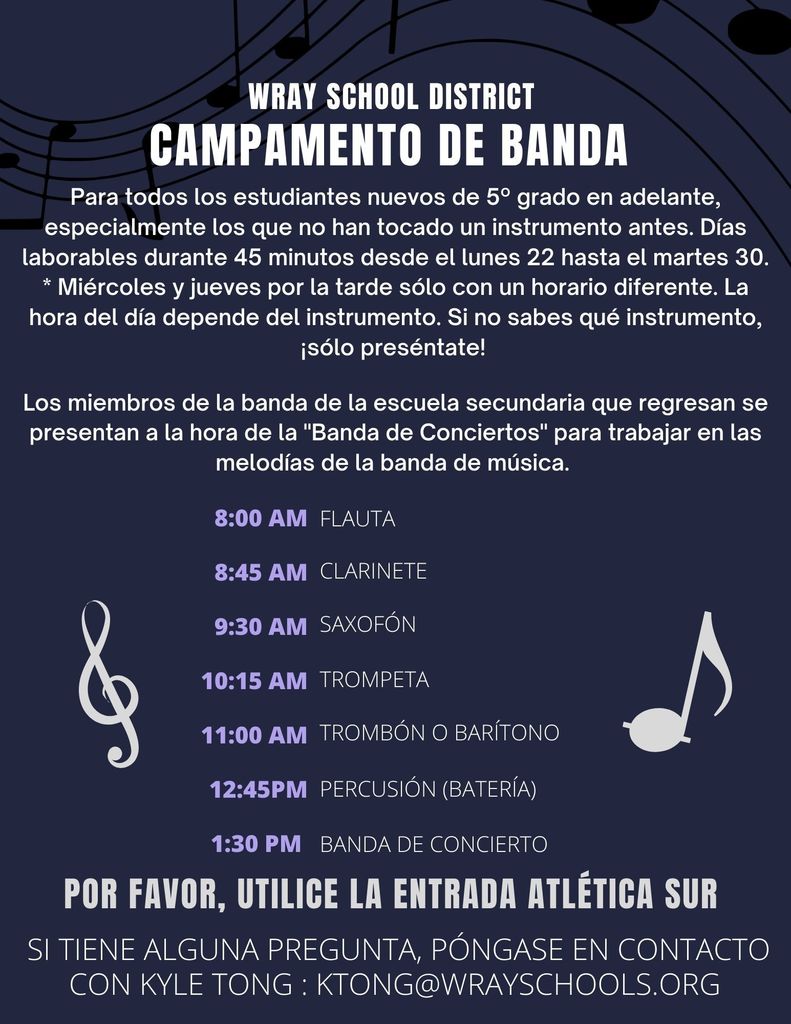 See the flyer below for more information ! ___________________________ Para más información, consulte el siguiente folleto!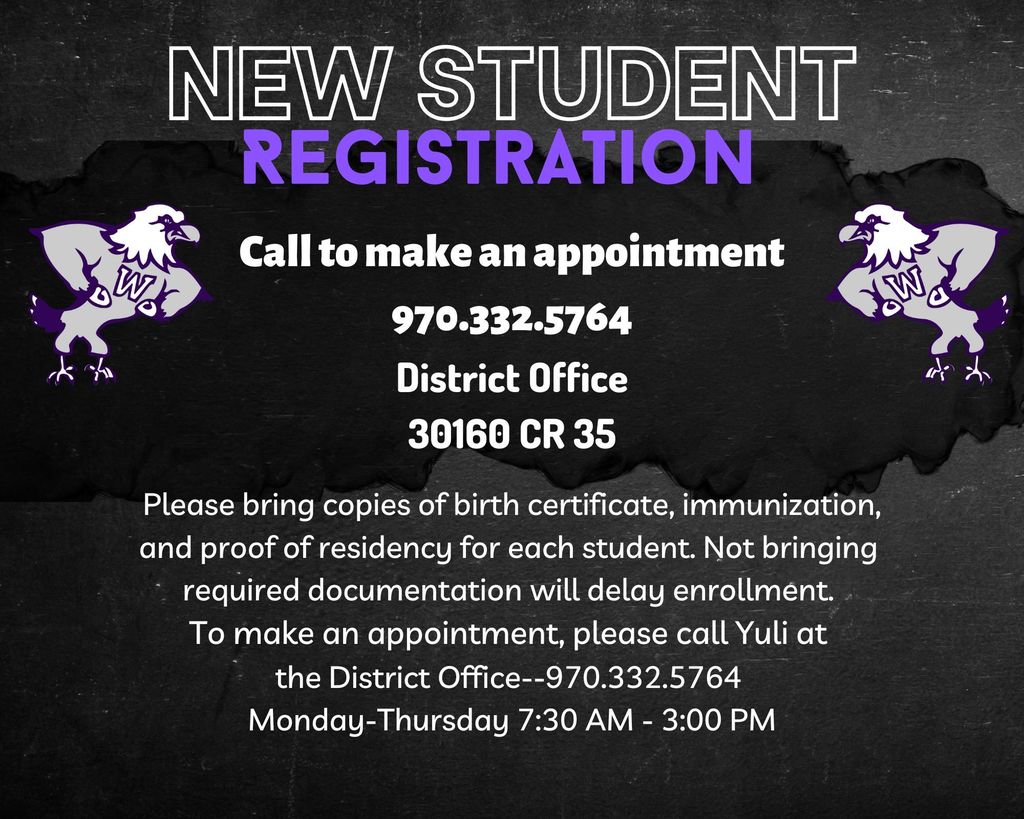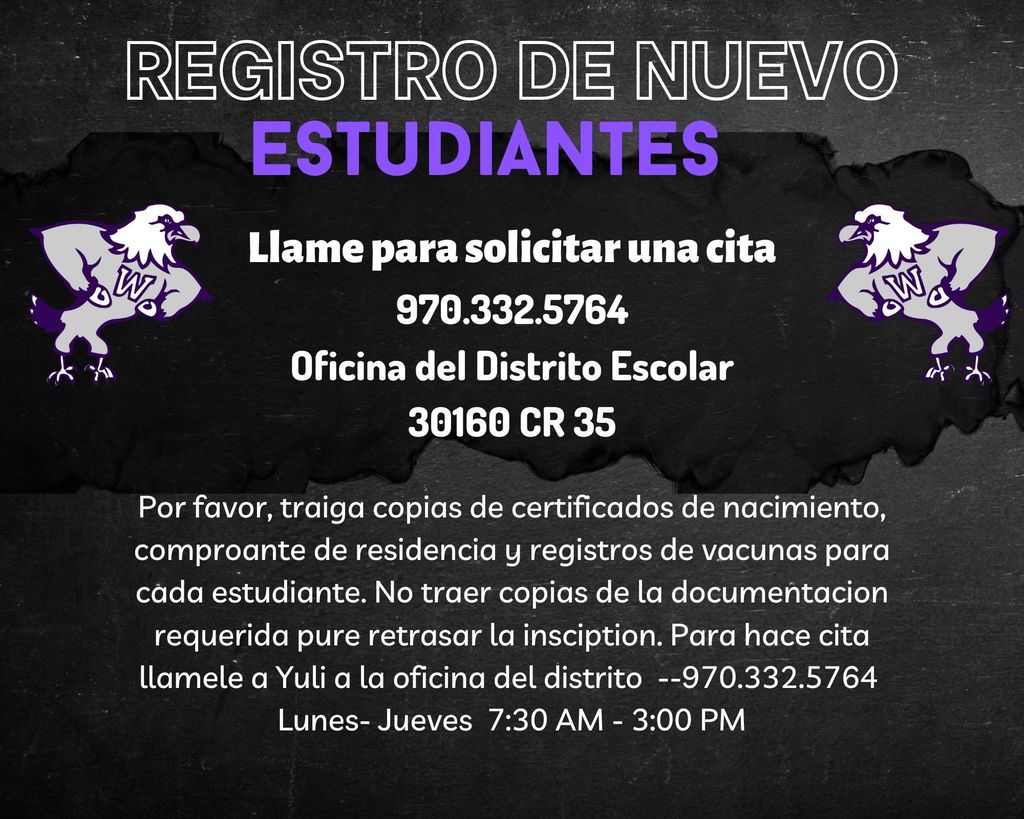 Parents of Wray Fall Athletes: Please plan to attend the Parent/Coach Athletic meeting with YOUR ATHLETES tomorrow evening, July 26, 2022 at 6:00 PM in Kitzmiller Auditorium. This is an opportunity to meet your athlete's coach, ask questions specific to your sport, and for athletes to fill out the required Athletic Handbook/CHSAA Rules in PowerSchool.

Parents: You can save time at student registration and fill out some required forms PRIOR to your registration appointment. Please go to either the browser or the app for PowerSchool, click on "more" and then "Forms" and fill out for each student. If you need help accessing your PowerSchool Account, please call the district office for assistance. 970-332-5764. _______________________________________ Padres: Usted puede ahorrar tiempo en el registro de los estudiantes y llenar algunos formularios requeridos ANTES de su cita de registro. Por favor, vaya al navegador o a la aplicación de PowerSchool, haga clic en "más" y luego en "Formularios" y llene para cada estudiante. Si usted necesita ayuda para accesar a su cuenta de PowerSchool, por favor llame a la oficina del distrito para obtener ayuda. 970-332-5764.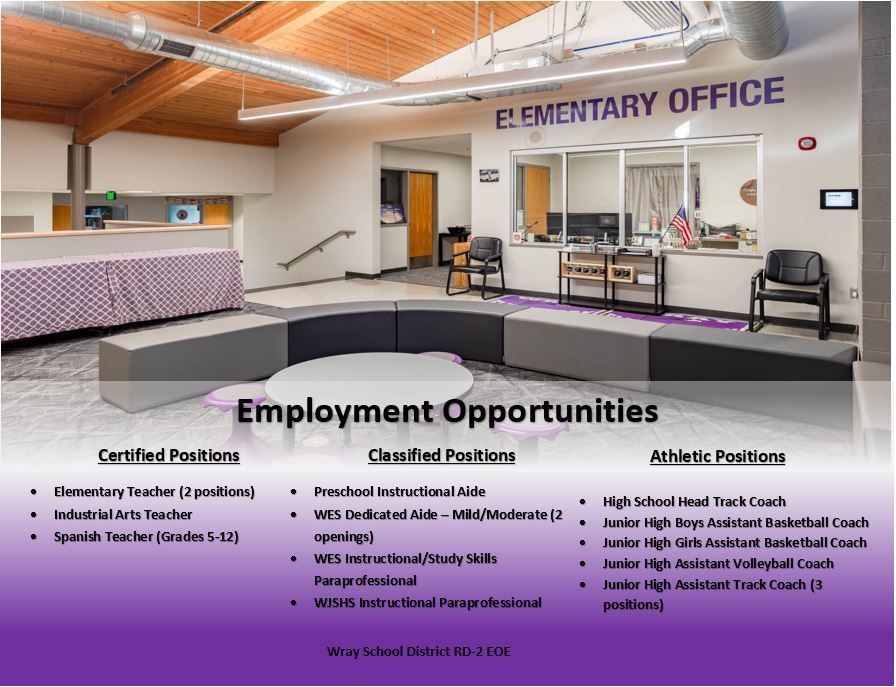 Information Only ForStudent Meal Eligibiity Changes for 22-23: Please be aware that the free meals provided by the USDA for the past several years has expired on June 30, 2022. Therefore, to qualify for free/reduced meals, parents will need to complete the free/reduced application for the 22-23 school year at student registration. Meal prices will be provided at student registration.
There are many perks to working at the Wray School District! The biggest perk is you get to work with some of the best team members and kids out there. Competitive pay and benefits are available for full time positions. Apply today at
https://www.applitrack.com/wrayschools/onlineapp/
--- Hay muchas ventajas de trabajar en el Distrito Escolar de Wray. La mayor ventaja es que se puede trabajar con algunos de los mejores miembros del equipo y los niños por ahí. El salario competitivo y los beneficios están disponibles para las posiciones de tiempo completo. Aplique hoy en
https://www.applitrack.com/wrayschools/onlineapp/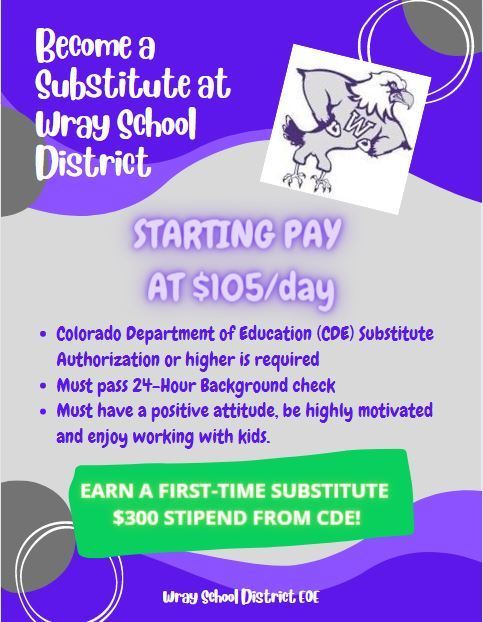 On June 2nd, the Board of Education approved a calendar change to move next year's graduation date to Sunday May 21st. Myself and Mr. Cure made the recommendation for the change due to CHSAA moving state championship events on our traditional graduation date. Mr. Kramer, Superintendent El 2 de junio, la Junta de Educación aprobó un cambio de calendario para mover la fecha de graduación del próximo año al domingo 21 de mayo. El Sr. Cure y yo hicimos la recomendación para el cambio debido a que CHSAA cambió los eventos del campeonato estatal en nuestra fecha tradicional de graduación. Sr. Kramer, Superintendente
Are you interested in becoming an Alternative Teacher? We would love to have you as part of our team, apply today! --- ¿Estás interesado en convertirte en un profesor alternativo? Nos encantaría que formaras parte de nuestro equipo, ¡solicita hoy mismo!