The Recycle Club traveled to Fort Collins to visit the Garbage Garage Educational Center, the recycling center and the landfill. They learned about renewable and non renewable resources, where our trash goes, composting, and ways we can switch from single use items to reusable ones. They also got to play games and go through an obstacle course made of repurposed items. _________________________________ El Club de Reciclaje viajó a Fort Collins para visitar el Centro Educativo Garbage Garage, el centro de reciclaje y el vertedero. Aprendieron sobre los recursos renovables y no renovables, dónde va nuestra basura, el compostaje y las formas en que podemos cambiar los artículos de un solo uso por otros reutilizables. También pudieron jugar y recorrer una carrera de obstáculos hecha con artículos reutilizados.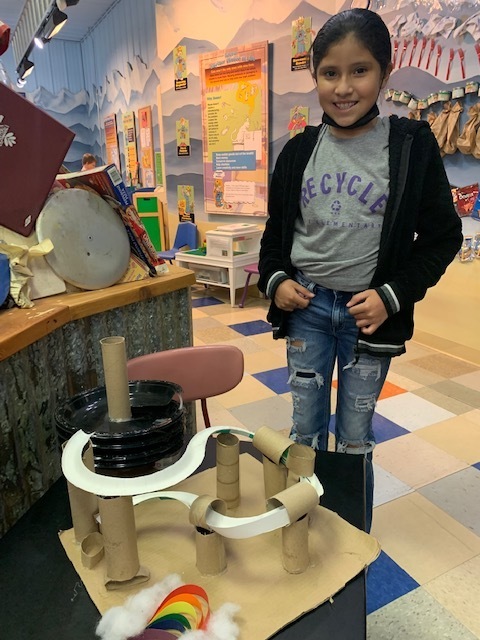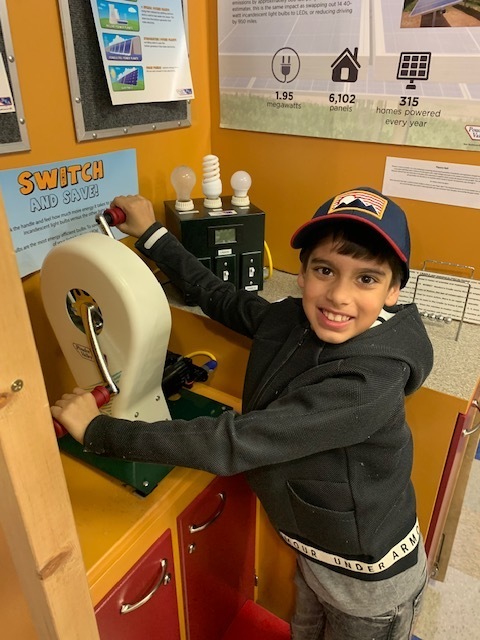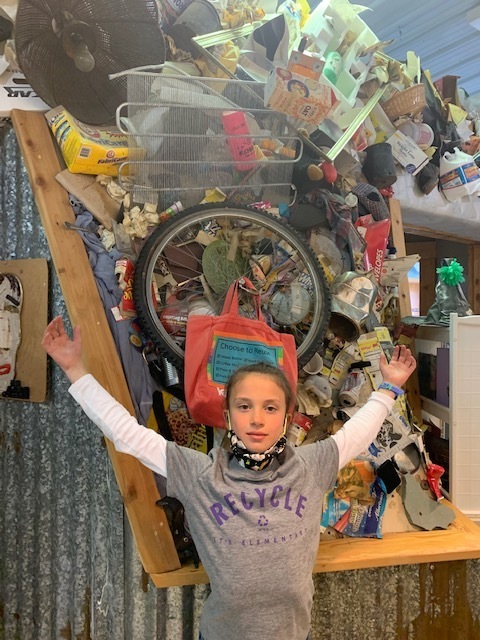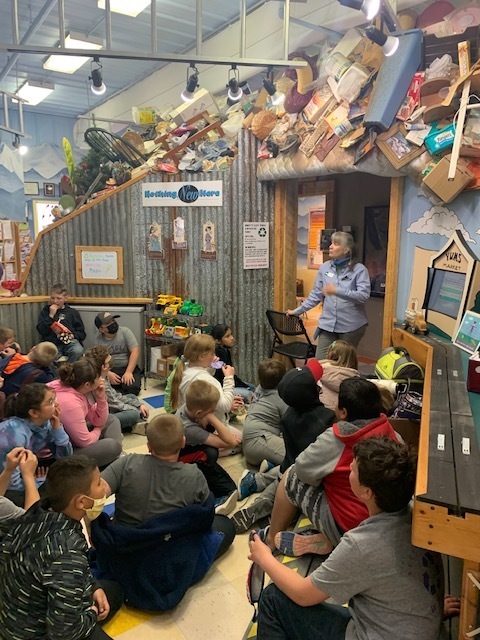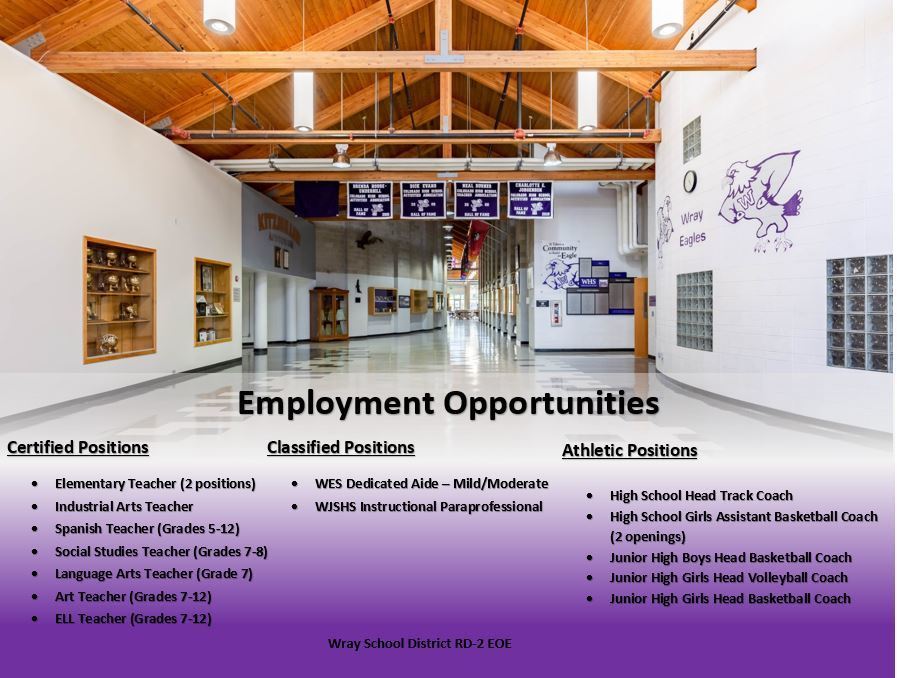 The 4th graders traveled to old Town Burlington and rode the carousel, panned for gold, made butter, visited a train depot, jail, and many other Main Street businesses to learn about the history of our part of Colorado. __________________________ Los alumnos de 4º grado viajaron a la antigua ciudad de Burlington y montaron en el carrusel, buscaron oro, hicieron mantequilla, visitaron un depósito de trenes, la cárcel y muchos otros negocios de la calle principal para aprender sobre la historia de nuestra parte de Colorado.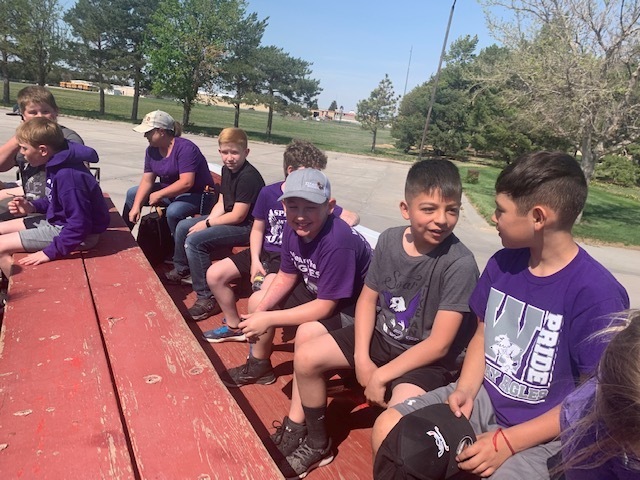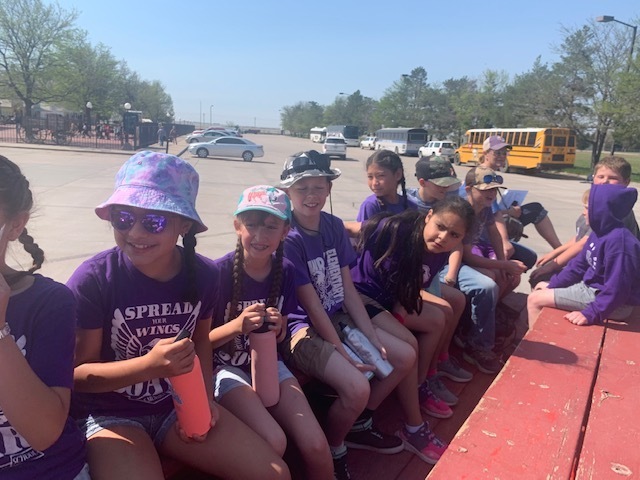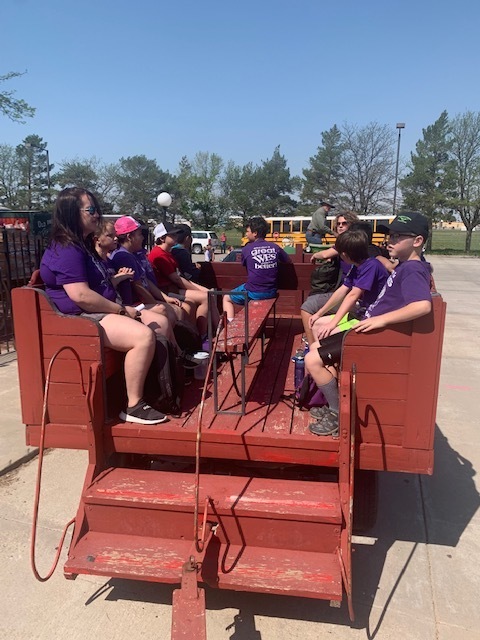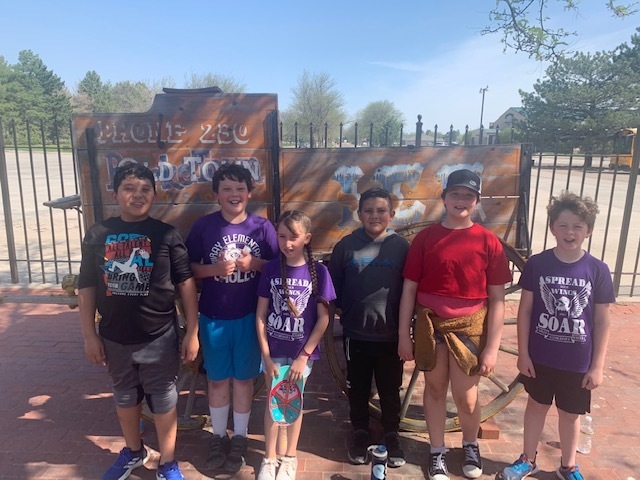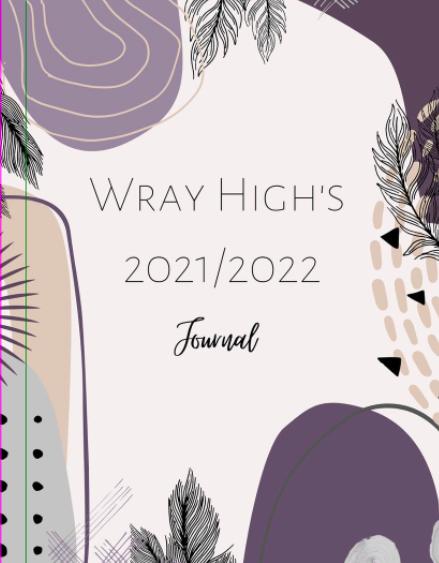 We had a successful kindergarten round up day on Friday, May 13th! We can't wait to see our new kindergarten students next year! If you have a new kindergarten student please call 970-332-5764 to set up an appointment for new student registration. ____________________________ Tuvimos un exitoso día de kindergarten round up el viernes 13 de mayo. ¡No podemos esperar a ver a nuestros nuevos estudiantes de kindergarten el próximo año! Si usted tiene un nuevo estudiante de kindergarten por favor llame al 970-332-5764 para hacer una cita para el registro de nuevos estudiantes.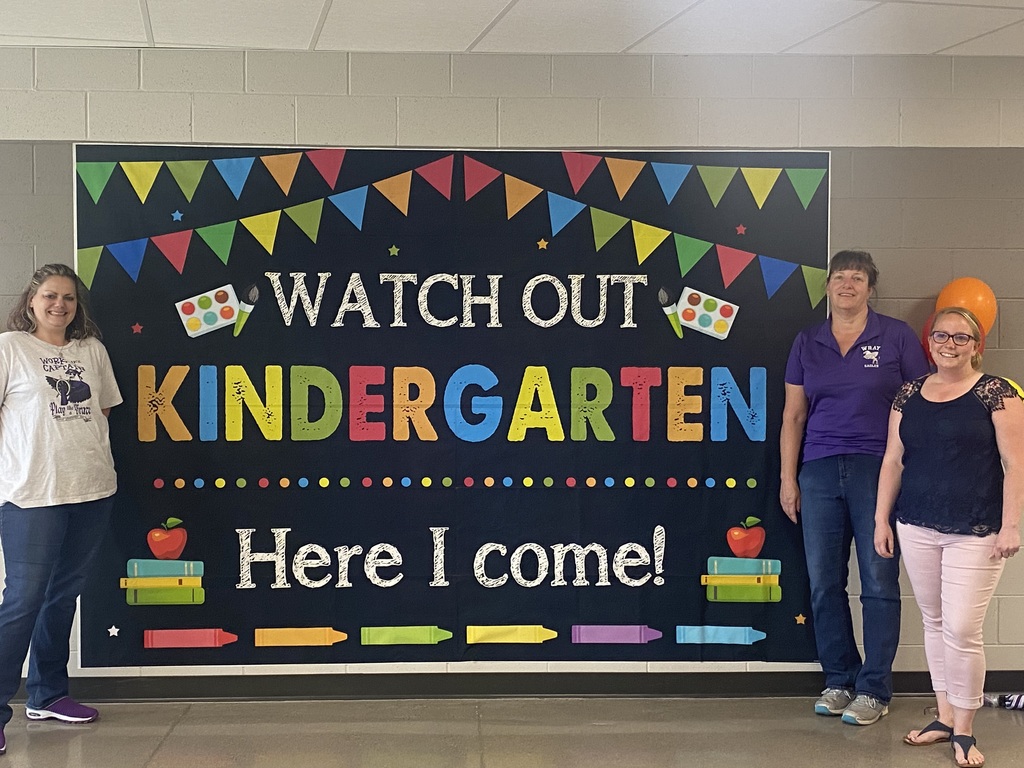 A huge THANK YOU to those who helped celebrate our teachers and staff members during appreciation week this month. We enjoyed meat, cheese, veggie, and fruit trays from Wray State Bank, beef sticks from Five Rivers, Canyon Coffee & Cafe from Brophy Realty and numerous flowers, candy, snacks, and heartfelt thank you cards from the parents and students of Wray School District. You all rock!! ______________________________ Un enorme AGRADECIMIENTO a aquellos que ayudaron a celebrar a nuestros maestros y miembros del personal durante la semana de apreciación este mes. Disfrutamos de bandejas de carne, queso, verduras y frutas de Wray State Bank, palitos de carne de Five Rivers, Canyon Coffee & Cafe de Brophy Realty y numerosas flores, dulces, bocadillos y tarjetas de agradecimiento de corazón de los padres y estudiantes del Distrito Escolar de Wray. ¡Todos ustedes son geniales!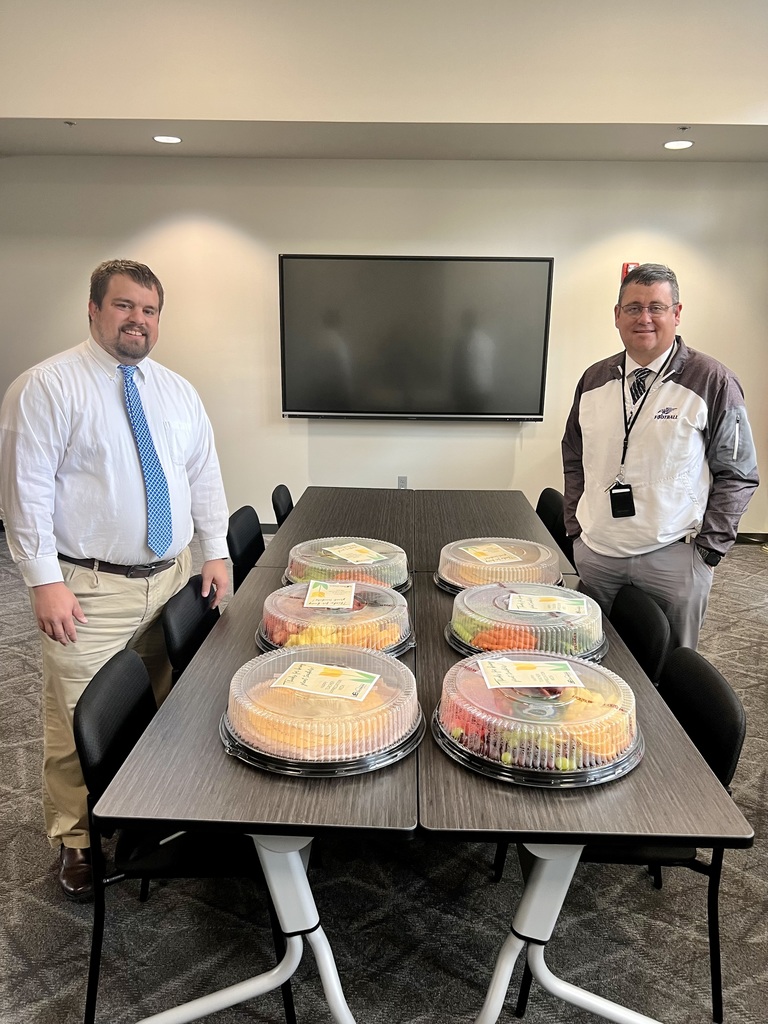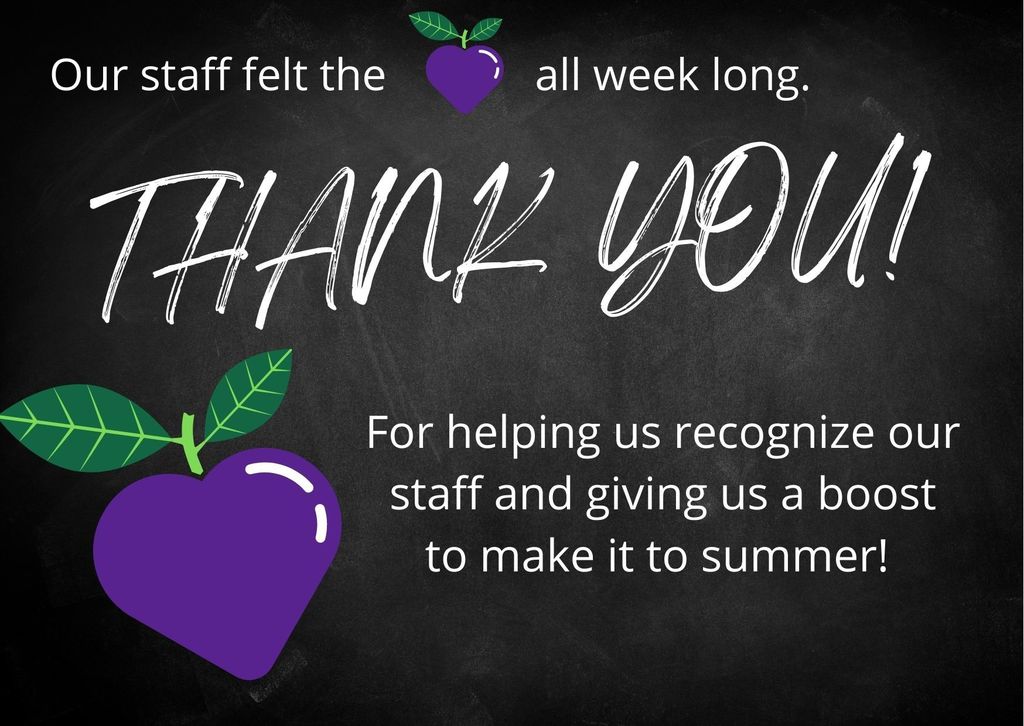 Some of our Third Graders have been busy in Mrs. Baker's class making replicas & doing lots of research on the Titanic & the Hindenburg! Check out the attention to detail! _______________________ Algunos de nuestros alumnos de tercer grado han estado ocupados en la clase de la Sra. Baker haciendo réplicas y haciendo mucha investigación sobre el Titanic y el Hindenburg. ¡Mira la atención a los detalles!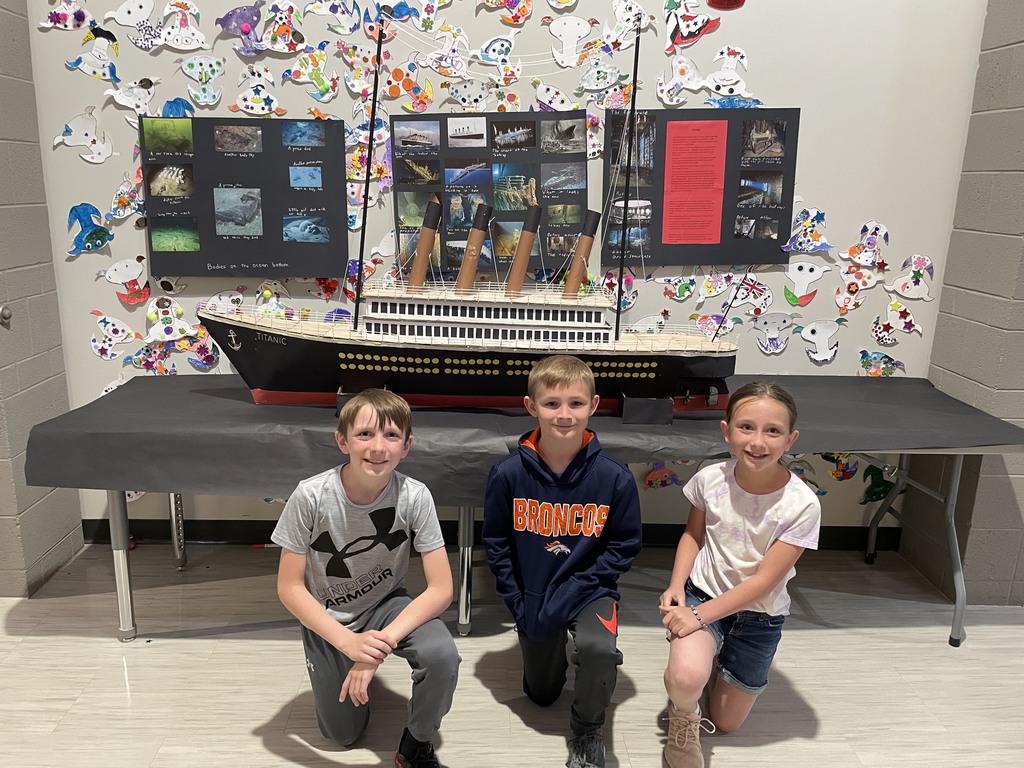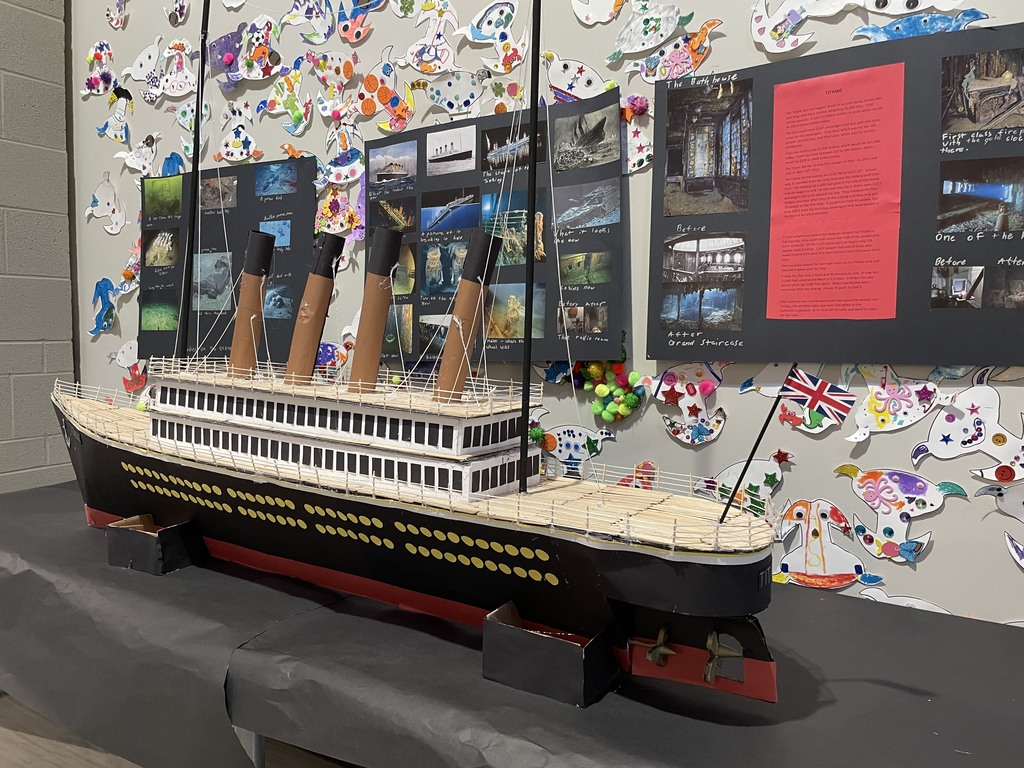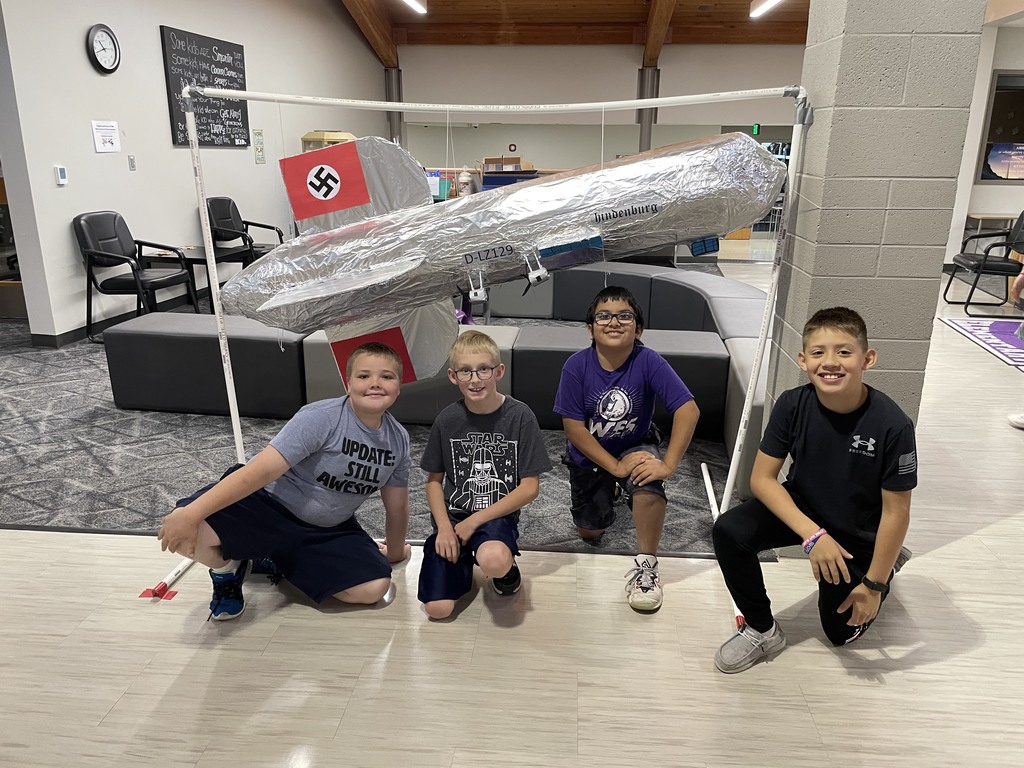 Fourth graders having fun learning about early Colorado in Burlington ___________________ Los alumnos de cuarto grado se divierten aprendiendo sobre los primeros años de Colorado en Burlington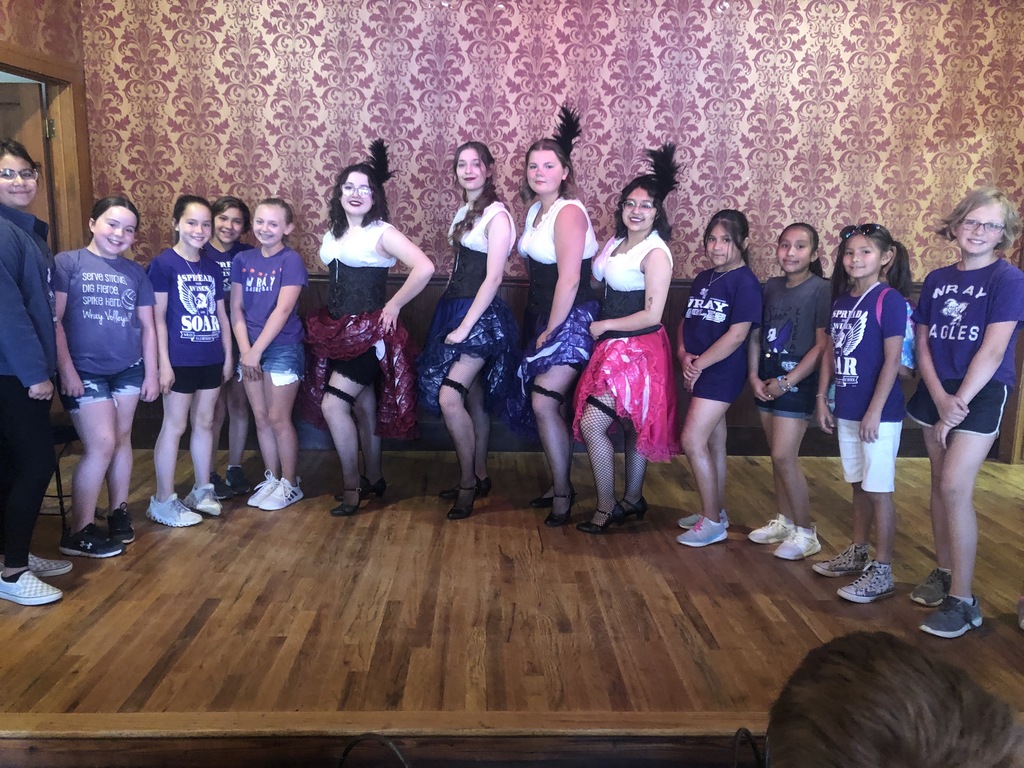 Second graders making "wind mobile" cars as a stem activity ___________________ Los alumnos de segundo grado fabrican coches "móviles de viento" como actividad de tallo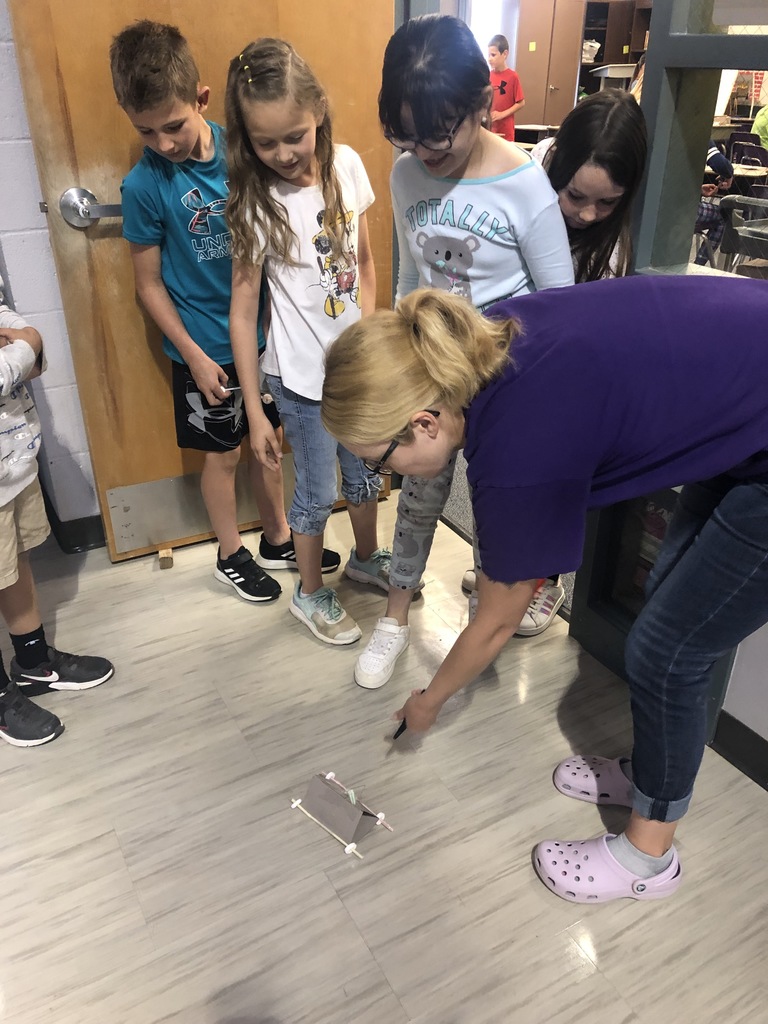 Second grade students learning about Colorado communities at the Sterling museum. __________________ Alumnos de segundo grado aprendiendo sobre las comunidades de Colorado en el museo de Sterling.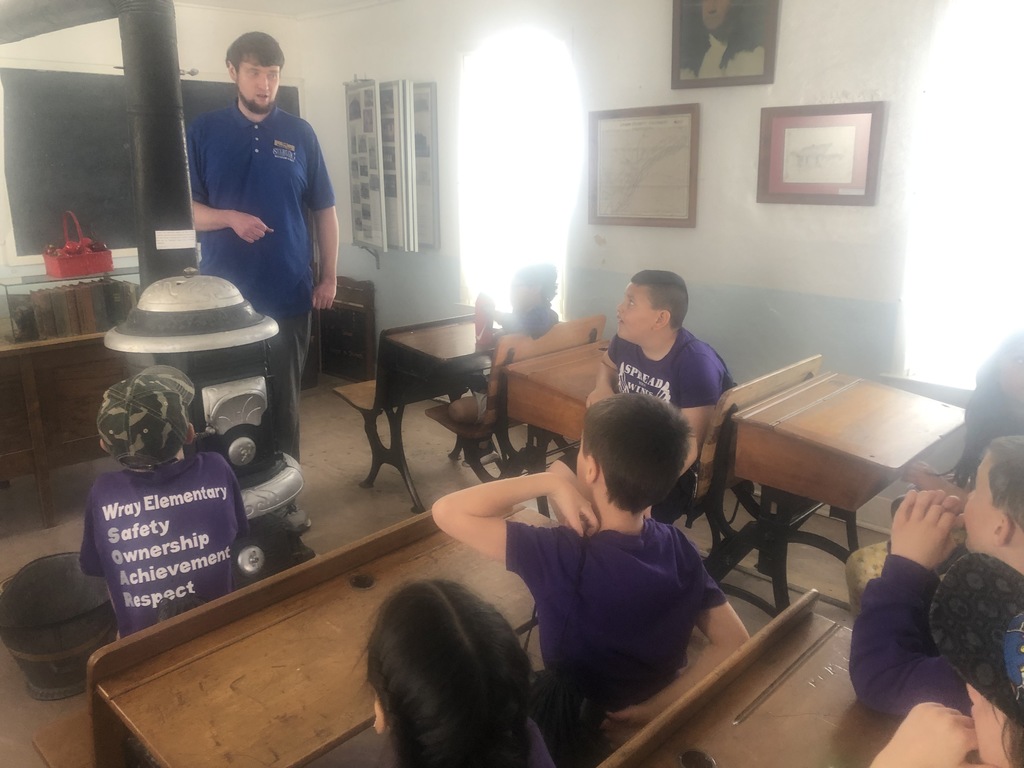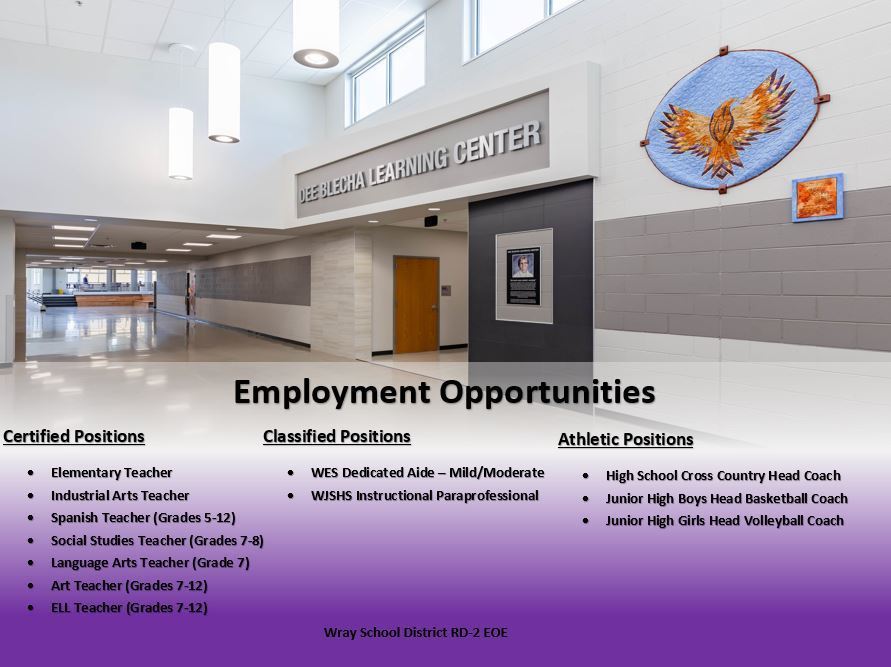 Mrs. Chapman & Mrs. Merritt were nominated for our Teacher Appreciation Award for the month of February! ______________________ La Sra. Chapman y la Sra. Merritt fueron nominadas para nuestro Premio de Apreciación de Maestros para el mes de febrero.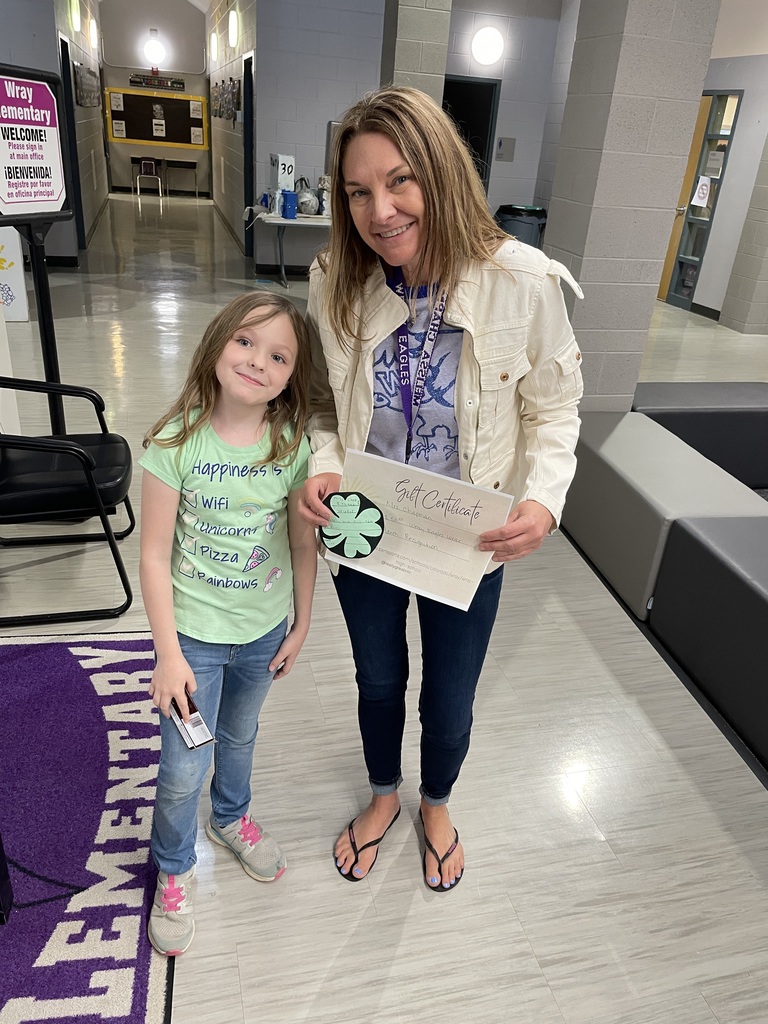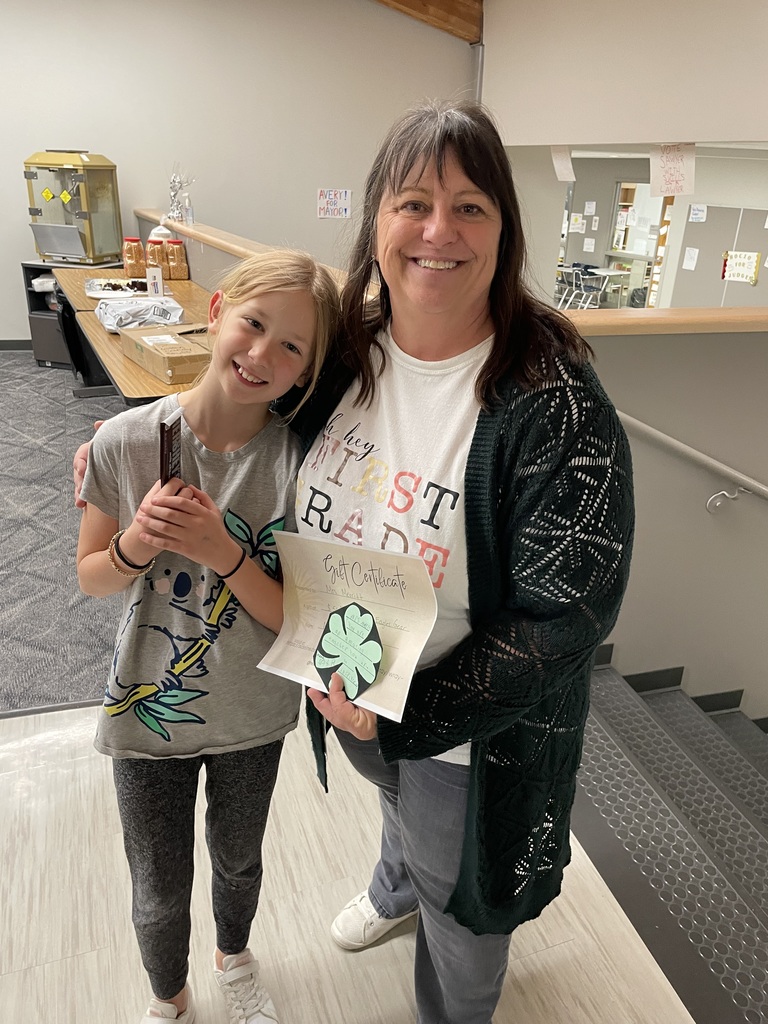 Students making a delicious treat in the new life skills classroom. _____________ Alumnos preparando un delicioso manjar en la nueva aula de habilidades para la vida.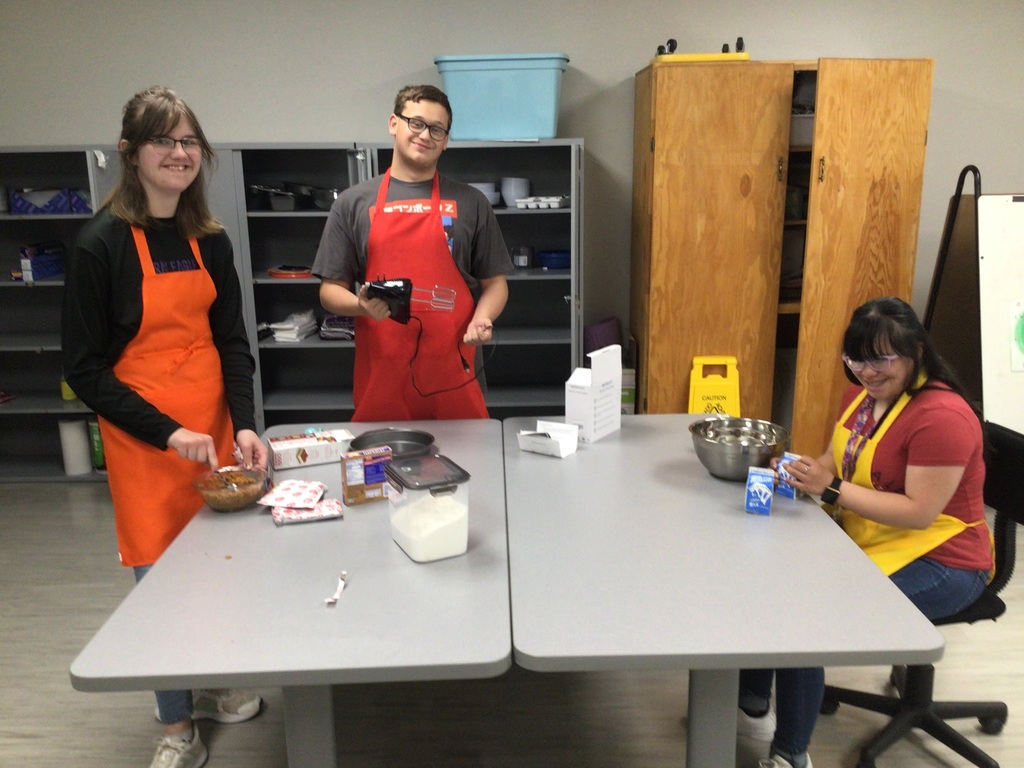 See the picture below for information on Staff Appreciation next week! _________________ ¡Vea la imagen de abajo para la apreciación del personal la próxima semana!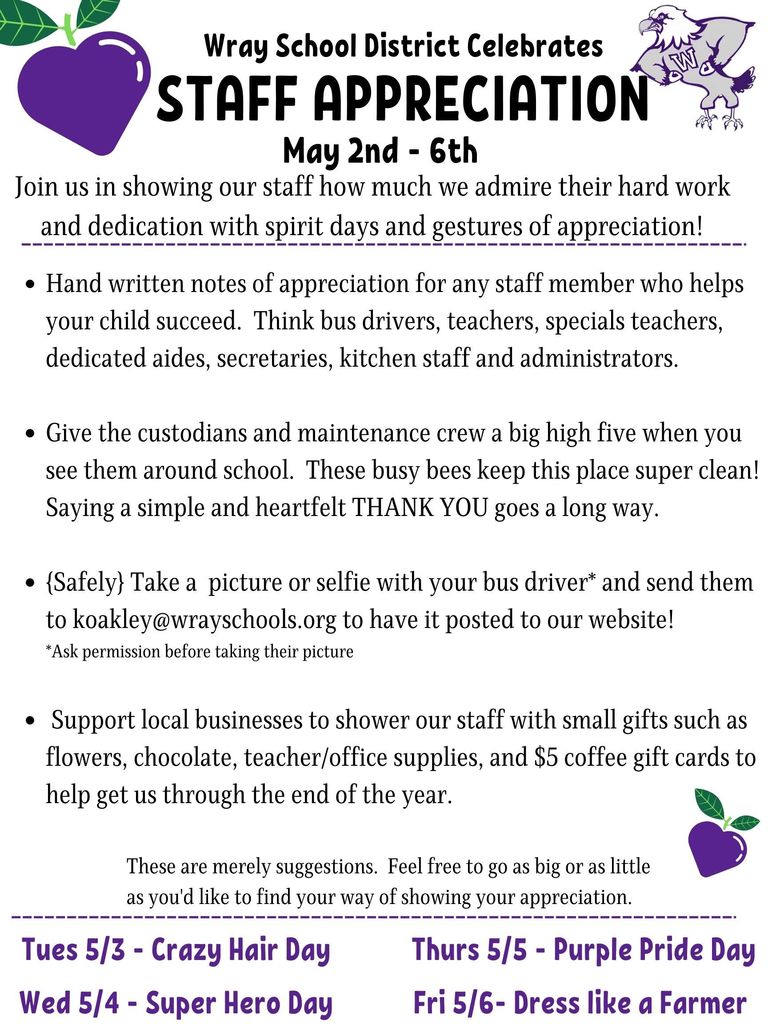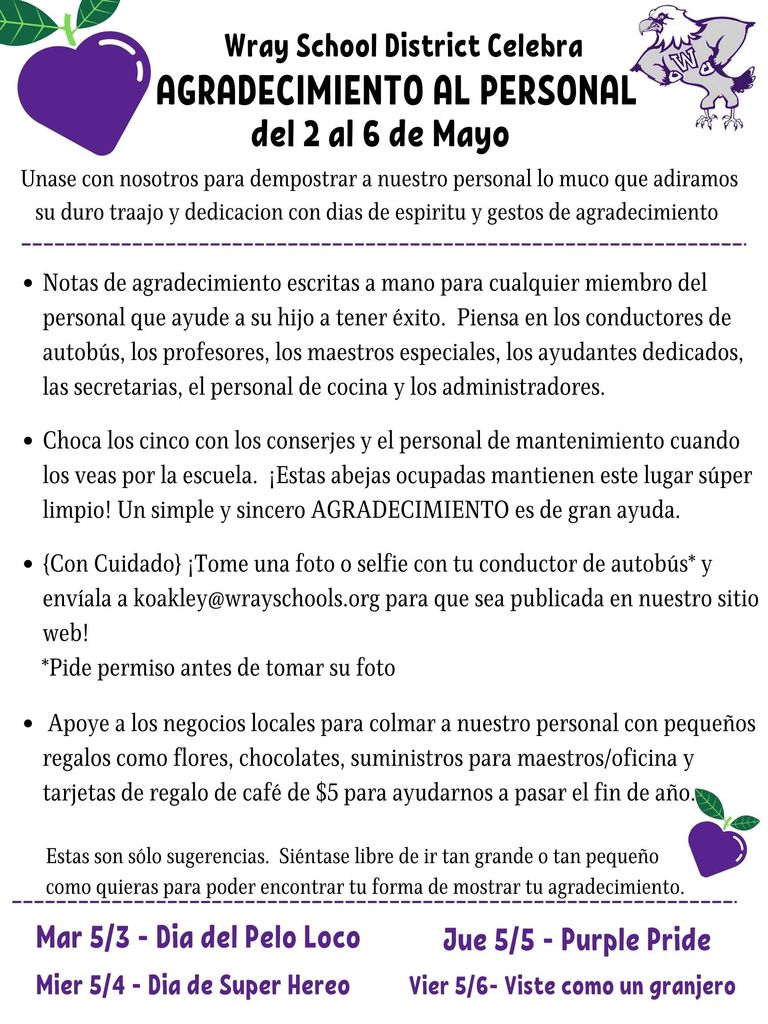 See the Important Dates for May for WES and WJSHS! ____________________ Consulte las fechas importantes de mayo para WES y WJSHS !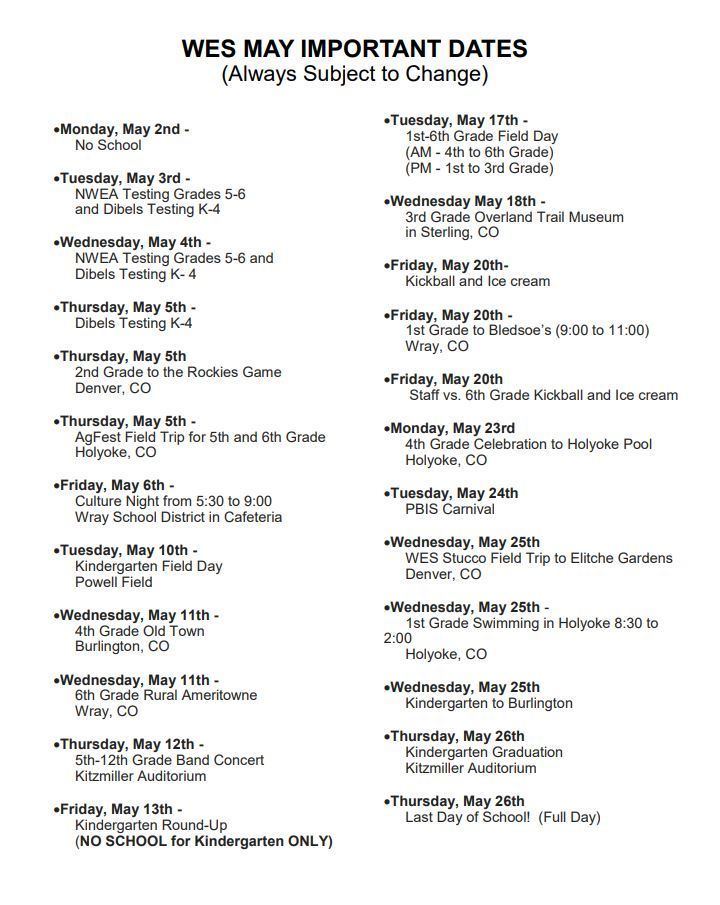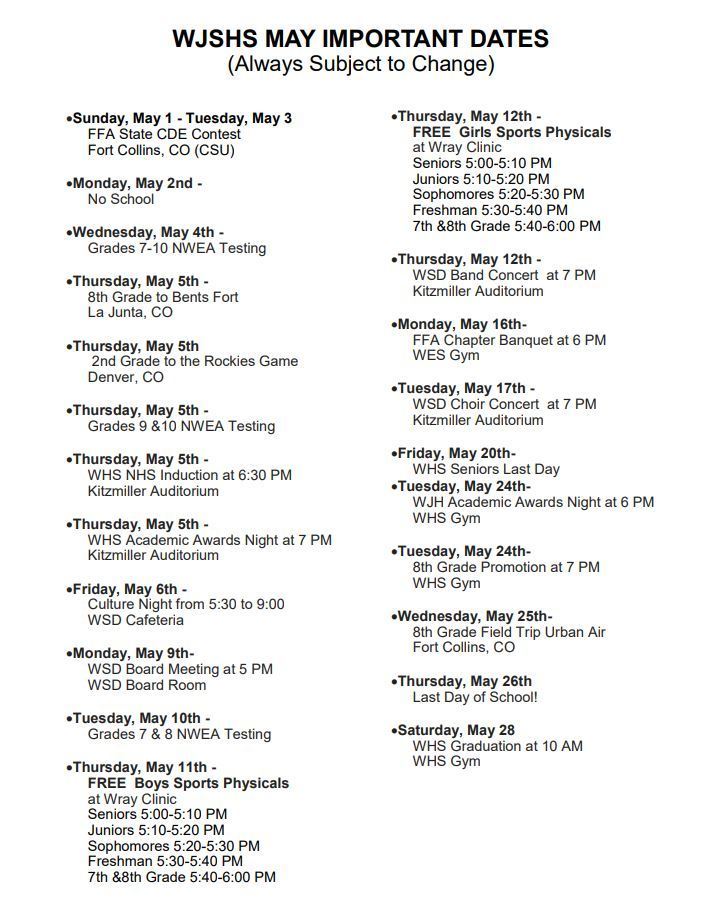 The Recycle Club would like to thank Leigh Floral for donating reusable straws for all members! __________________________ El Club de Reciclaje quiere agradecer a Leigh Floral la donación de pajitas reutilizables para todos los socios.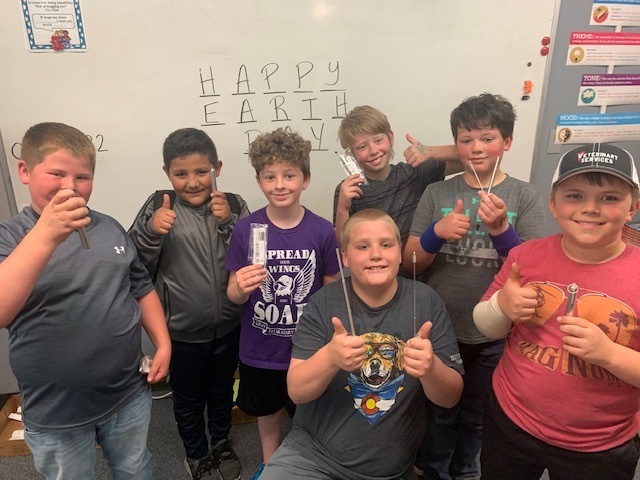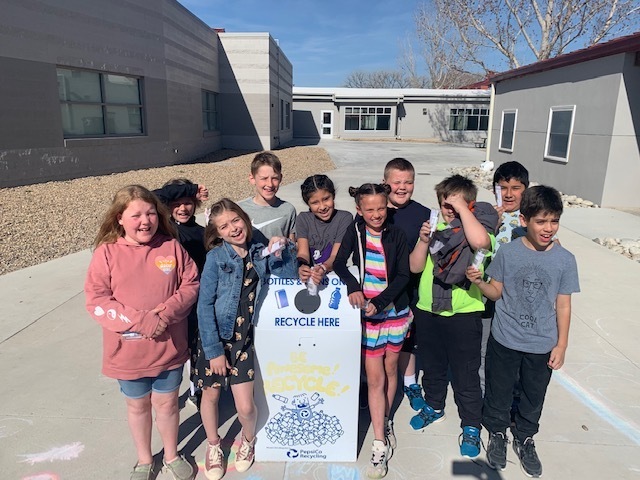 See the flyer below for more details on Culture Night! ___________________ Consulte el siguiente folleto para obtener más detalles sobre la Noche Cultural.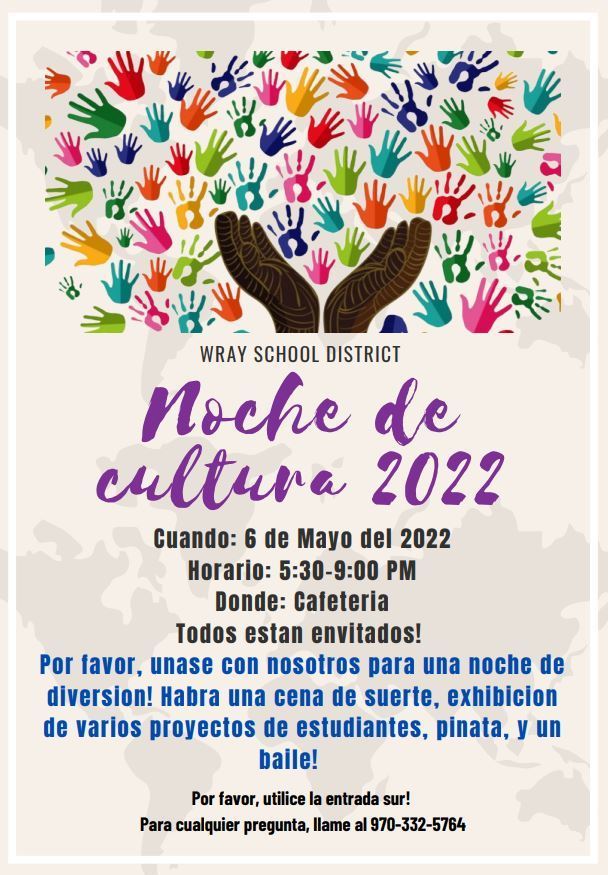 See the flyer below for information on Kindergarten Roundup on May 13, 2022! Please call the Elementary Office at 970-332-3729 to set up and appointment. The times we will have available will be 9-11 AM or 12:30-2:30PM. Children must be 5 years old on or before June 1, 2022 to attend kindergarten during the 2022-2023 school year. _________________ ¡Vea el volante abajo para información sobre el Kindergarten Roundup el 13 de Mayo del 2022! Por favor llame a la oficina de Wray Elementary al 970-332-3729 para hacer una cita. Los horarios que tendremos disponibles serán de 9-11 AM o de 12:30-2:30PM. Los niños deben tener 5 años de edad antes del 1 de Junio de 2022 para asistir al kindergarten durante el año escolar 2022-2023.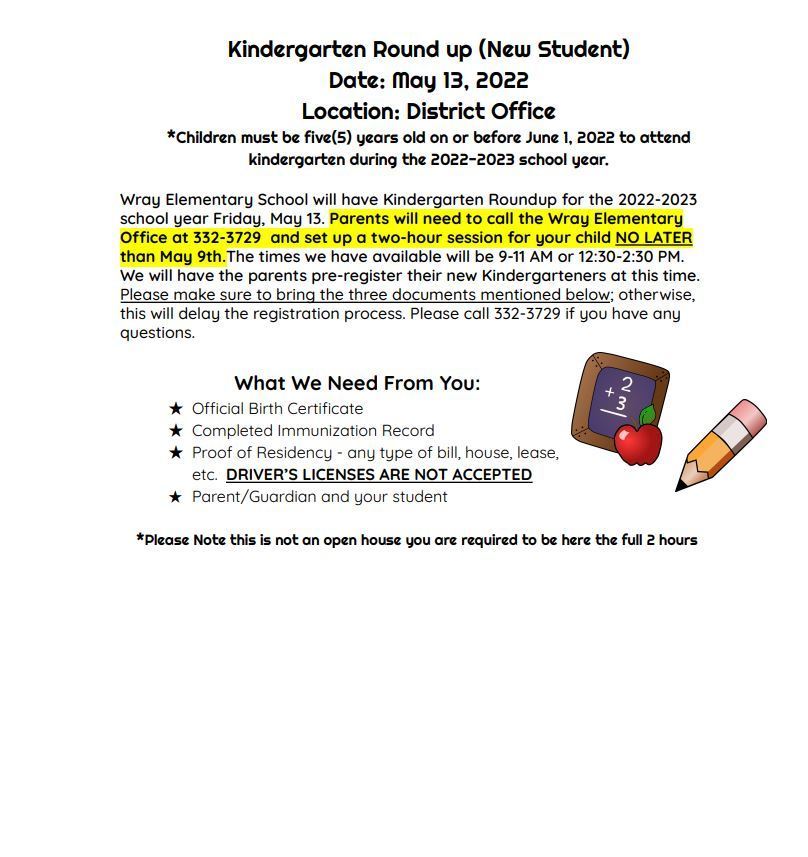 WES cookie Dough money was used to pay for all students to enjoy Wayne and Wingnut, a nationally known ventriloquist show. _____________________ El dinero de la masa de galletas de WES se utilizó para pagar a todos los estudiantes para que disfrutaran de Wayne y Wingnut, un espectáculo de ventrílocuos conocido a nivel nacional.