Our school website is up and running. We apologize for any inconvenience this may have caused! __________________________ Nuestro sitio web de la escuela está funcionando. ¡Nos disculpamos por cualquier inconveniente que esto pueda haber causado!
Please see the schedules for Junior High Track, High School Baseball, and High School Track! Go Eagles! ___________________________________ Por favor, consulte los horarios de Junior High Track, High School Baseball y High School Track. ¡ Go Eagles!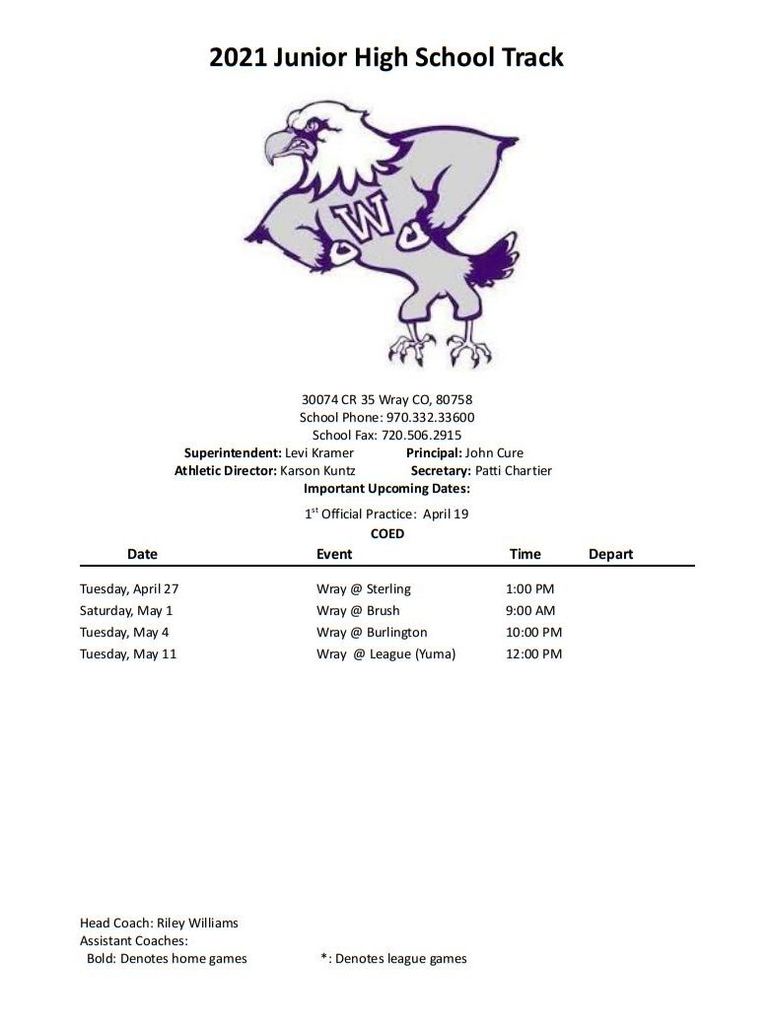 Next week at Wray Schools/ La proxima Semana en Wray Schools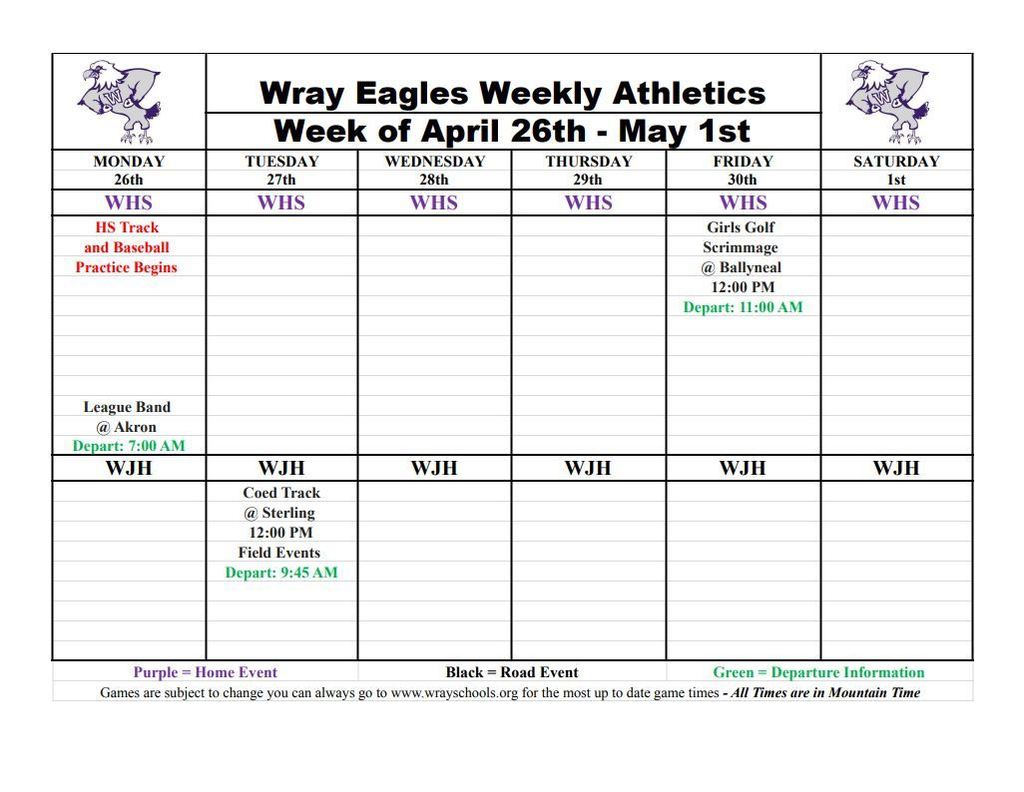 Join us to watch the Grand March for Prom on Saturday, April 24 at 8 pm. Please use the Athletic Entrance on the South side of the building. ______________________ Únase con nosotros para ver la Gran Marcha del Prom el Sábado 24 de Abril a las 8 pm. Utilice la entrada atlética en el lado sur del edificio.
This week at Wray Schools/ Esta Semana en Wray Schools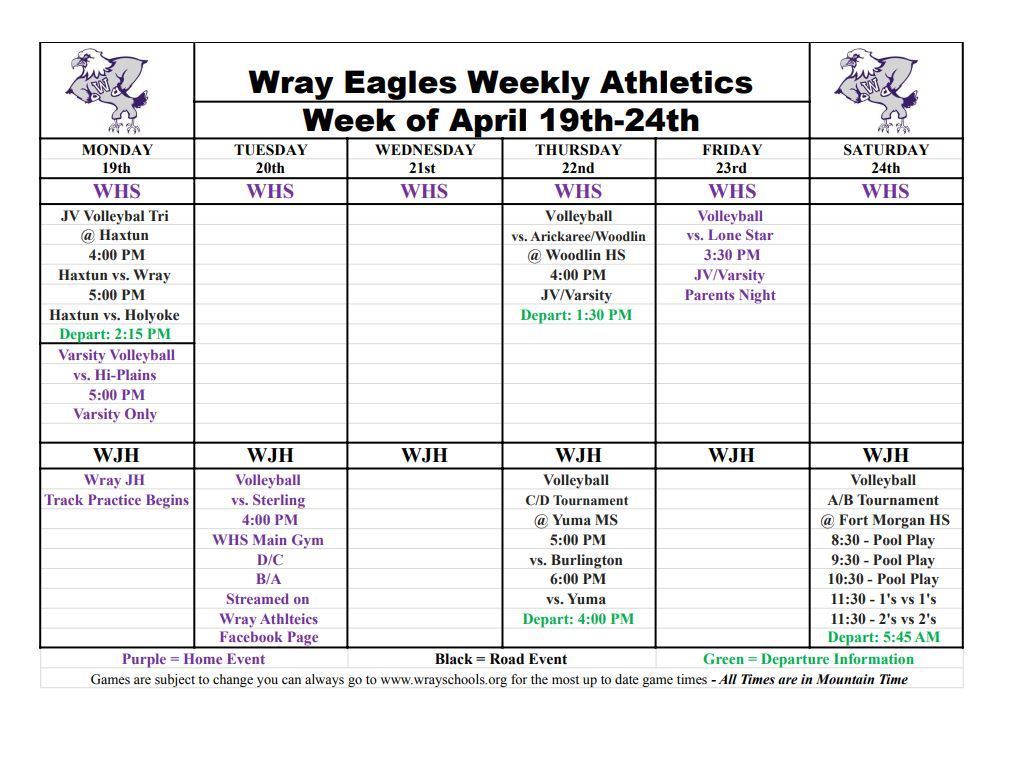 Sports Physicals will be available at the Wray Clinic in May. Please reach out to Karson Kuntz at
kkuntz@wrayschools.org
or 970-332-3728 with questions.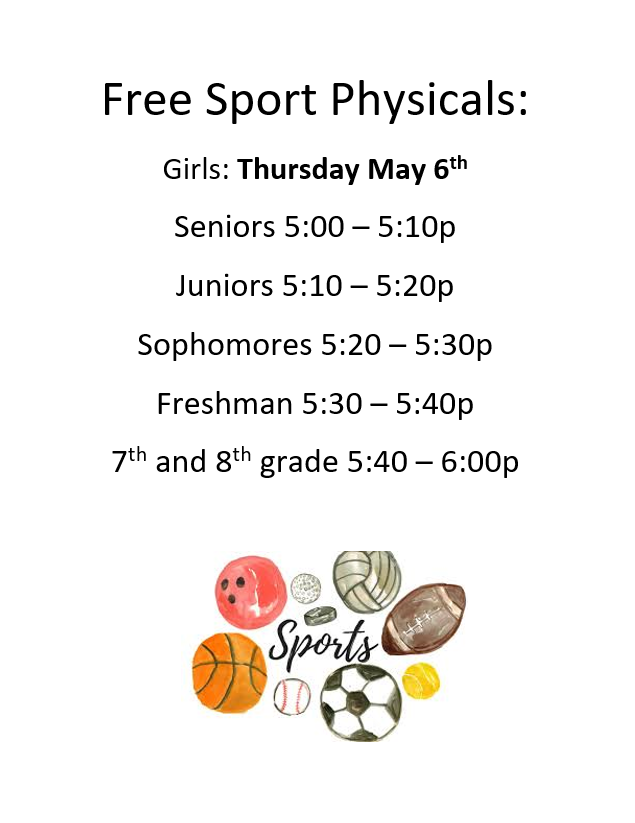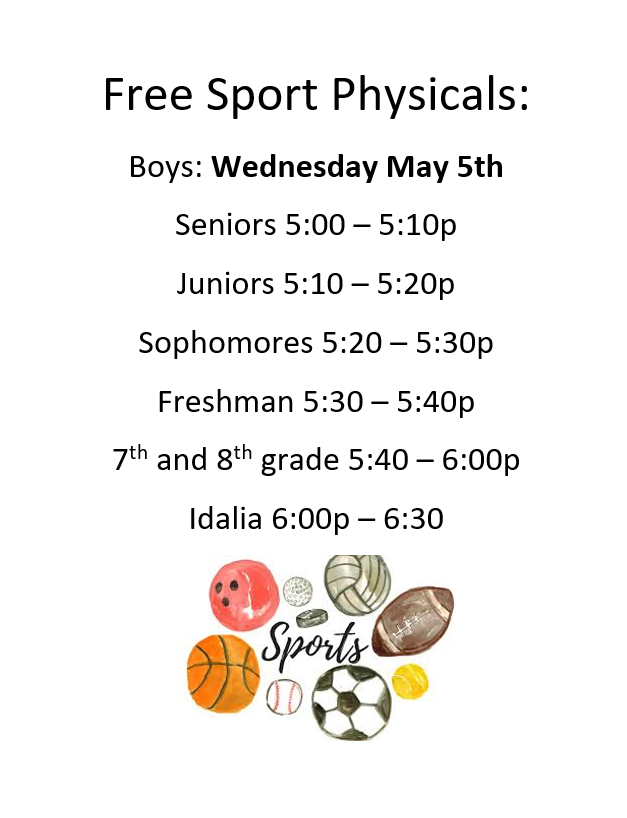 Mr. Kramer will not be hosting our Live Community Update this week. Please tune in next Friday, April 23rd at noon!
Debido a condiciones climáticas adversas, la escuela ha sido cancelada para hoy 16/04/2021. Todas las escuelas estarán cerradas, incluida la Oficina del Distrito. Por favor, ten cuidado. Mire Facebook y nuestro sitio web para conocer las actualizaciones.
Due to adverse weather conditions school has been canceled for today 04/16/2021. All schools will be closed, including the District Office. Please be safe. Please watch Facebook and our website for any updates.
Job Openings at Wray School District! Apply at wrayschools.org under Career Opportunities or contact HR/Payroll at 970-332-3701 on how to apply. ________________________ ¡Ofertas de empleo en el distrito escolar de Wray! Solicite en wrayschools.org bajo Career Opportunities o comuníquese con Recursos Humanos / Nómina al 970-332-3701 para saber cómo presentar la solicitud.
This week at Wray Schools / Esta semana en Wray Schools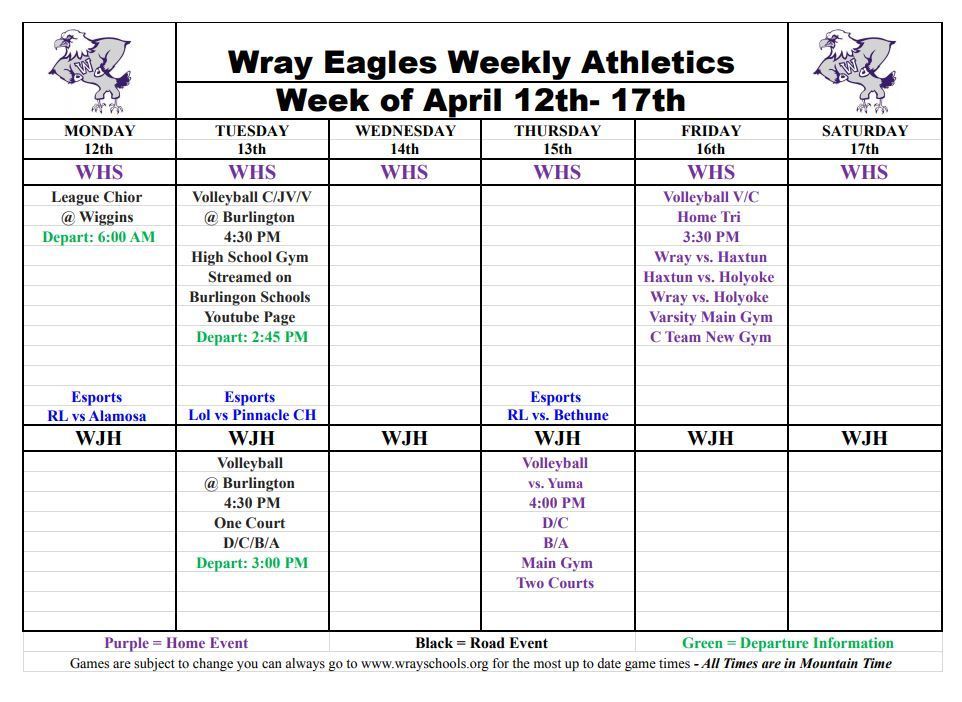 Today our staff received an awesome treat from the Girl Scouts of America. We aren't sure who to properly thank for these delicious cookies! Please help us share the word to thank them! _____________________________ Hoy nuestro personal recibió un regalo increíble de Girl Scouts of America. ¡No estamos seguros de a quién agradecer adecuadamente por estas deliciosas galletas! ¡Ayúdenos a compartir la palabra para agradecerles!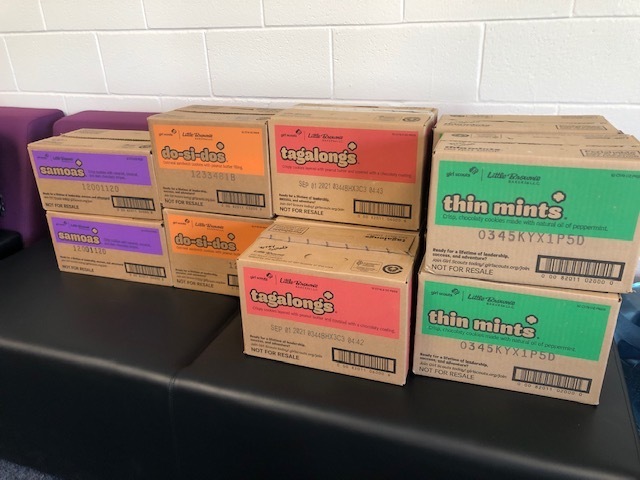 Please see the updated athletic schedule for this week.
We have the best students! Zaiden Annen, FFA District President, took the time to thank WJSHS Staff for all that they have done during a chaotic year of school. Advocating for Agriculture is her passion and she uses her passion to brighten classrooms with mini potted flowers and plants. Let's cheer our fellow Eagle on as she runs for State FFA Office! ____________________________ ¡Tenemos los mejores estudiantes! Zaiden Annen, presidente del distrito de la FFA, se tomó el tiempo para agradecer al personal de WJSHS por todo lo que han hecho durante un año escolar caótico. Abogar por la agricultura es su pasión y ella usa su pasión para iluminar las aulas con mini macetas de flores y plantas. ¡Animemos a nuestra compañera Águila mientras se postula para la Oficina Estatal de la FFA!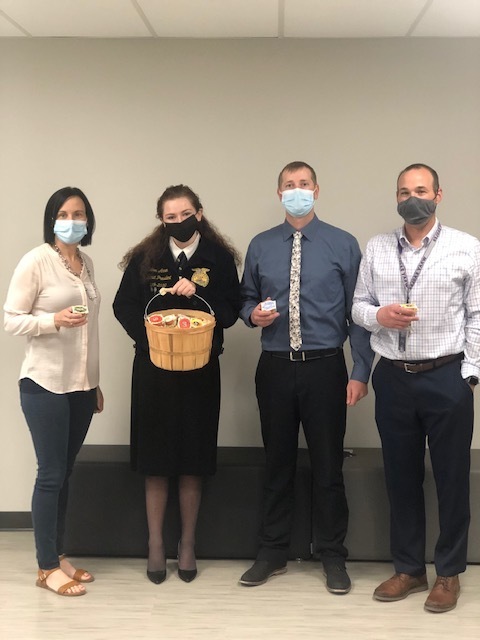 Residents of Hillcrest stopped by and took a tour of our new school last week with Superintendent, Levi Kramer. Thank you to Ginger Williams and staff at Hillcrest for bringing them. It was great to share our new school with these folks! ___________________ Los residentes de Hillcrest se detuvieron y realizaron un recorrido por nuestra nueva escuela la semana pasada con el superintendente, Levi Kramer. Gracias a Ginger Williams y al personal de Hillcrest por traerlos. ¡Fue genial compartir nuestra nueva escuela con esta gente!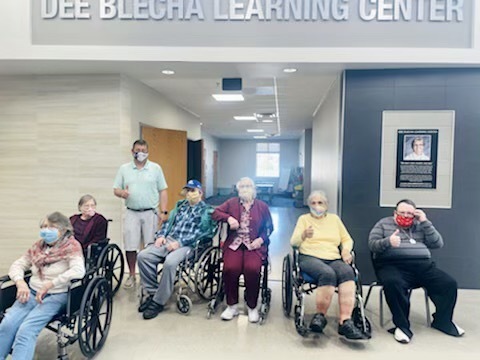 Parents, we are aware of an issue of school phones dropping calls to Viaero numbers. They are working on a solution. If you get disconnected, please call back. Thank you for your patience as this issue gets resolved.
Padres, estamos conscente de un problema de teléfonos de la escuela que cortan las llamadas a los números de Viaero. Están trabajando en una solución. Si se desconecta, vuelva a llamar. Gracias por su paciencia mientras se resuelve este problema.
Parents, Please see the following update regarding state testing. The U.S. Department of Education (USED) requested most of the state waiver regarding this spring's assessments. The USED approved assessing alternating grades for CMAS/CoAlt ELA and Math. Under the spring 2021 waiver, districts and schools must administer CMAS/CoAlt ELA assessments to all students in third, fifth, and seventh grades, and CMAS/CoAlt Math to all students in fourth, sixth, and eighth grades. USED did not grant a blanket waiver for CMAS/CoAlt Science. While USED did not waive grade 8 CMAS/CoAlt Science, the grade 5 CMAS/CoAlt Science assessment requirement was waived, and a one-year replacement of grade 11 CMAS Science with SAT was granted. Grade 3 - ELA Grade 4 - Math Grade 5 - ELA Grade 6 - Math Grade 7 - ELA Grade 8 - Math and Science Grades 9, 10, 11 - PSAT and SAT The assessment schedule will be posted on the district's website later this week. To inquire about opting students in to additional CMAS ELA and Math Assessments please contact Bobbi Cure, District Assessment Coordinator at 970-332-3798. Thank you!
This week at Wray Schools/ Esta Semana en Wray Schools